There is a trend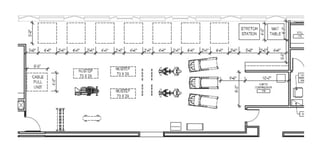 among owners and operators of continuing care retirement communities (CCRC) toward a focus on resident wellness. The movement is based in research findings which indicate that opportunities for residents of CCRCs to live actively are important both to prospective residents as well as to family members of residents. Couple those findings with the constant news updates about how good regular exercise is for older adults and its easy to see why senior living communities are so focused on ramping up their resident wellness programming.
Perhaps the most visible element in a community's wellness program is their exercise offerings. When I consult for clients on senior living fitness centers, I am often asked if size matters. Does it matter that their fitness center is small, with only a few pieces of equipment? Does it matter that they don't have dedicated group exercise class space? They can't afford to put in a pool - is that a problem for growing their exercise program?
There is no short and simple answer.

Size is an important consideration. But it shouldn't be the only consideration. Much positive and fulfilling life can be lived by your residents in even the smallest spaces. We've worked with several clients who are small on space, but significant on providing meaningful and effective programming design to engage, not entertain, residents. The challenge will be accomodating as many participants as possible when your footprint is tight. Creative thinking can often help you solve issues like not enough equipment or overcrowding in exercise clases.
Where size does matter is when we're looking at the passion, personality, and skills of the individual(s) leading the exercise programming at your retirement community. Even the biggest, shiniest, most state of the art fitness centers, pools, and other healthful spaces will become like a ghost town if there is no staff presence (or it's the wrong staff presence) there to connect with your residents. Personality and capability reign supreme when it comes to a quality, compelling, and invitational programming at your CCRC.
Getting the size of your staffing just right
You can provide your own staffing and hands down, that will be less expensive than working with a partner like NIFS. Doing it yourself is generally less expensive than outsourcing a service. However, before you convince yourself that you know what you should about hiring, training, and supporting a health promotion specialist in order to save some money, consider these reasons to outsource.
There's a lot at stake here. Not enough staffing, or the wrong staff member(s) could poke a serious hole in what should be an uplifting, feel-good offering at your community. If you don't have the money to spend on the bricks and mortar, make sure you have the resources to effectively operate what space you do have, or the entire investment could provide less than stellar results.
To find out more about the benefits of staffing your fitness center with the right people, click the button below to download our webinar: 10 Benefits to Adding Quality Staff in Your Community Fitness Center