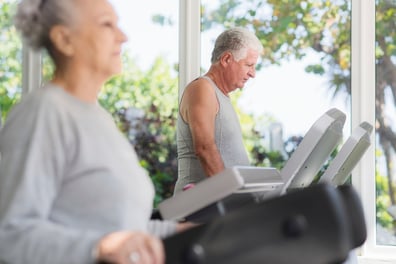 For any individual exercising, it is important to understand that there is some risk of injury, especially when working on a treadmill, elliptical, or weight machines. For the senior population, this is more pronounced, as the body is more prone to falls and other injuries from working with machines. So how does one avoid the risk of injury when working on a piece of exercise equipment?
Working with the senior population has taught me a great deal about injury prevention and risk that is important in the senior-aged population. For example, not every piece of equipment is safe for every individual, regardless of skill and ability. Due to this, safety is always first and you should consider the needs of each individual when working with senior clients.
Following are five tips you should consider when working with your piece of equipment. There are safety features for every machine, so pay close attention to these tips.
1. Know Your Treadmill
One of the most commonly prescribed exercises for seniors is walking. It is an activity that can be done every day, and there is evidence to suggest it helps lower blood pressure, reduces stress, and helps maintain lean body mass. Due to this, treadmill walking is very popular.
For the senior population, it is especially important to make sure everyone is safe from falls and injury, which is why treadmill safety is a high priority in many gyms with seniors. For general safety, remember to look forward at all times, keep the arms swinging as you normally would with your usual gait, and slowly increase your speed. For more on treadmill safety, check out this checklist of safety tips for treadmills.
2. Adjust Your Bike
An indoor bike and outdoor bike are similar in that they require proper adjusting prior to use. For a recumbent bike, remember to adjust the bike in a good position so that your feet are not reaching too far forward when pedaling. Make sure to adjust the back seat (if possible) so you can maintain a good posture during your ride. If it is a challenge to maintain good posture due to aching backs or medical procedures, try your best to adjust the seat appropriately or have your trainer help you.
3. Adjust the NuStep
Adjusting your NuStep is similar to adjusting your bike. Make sure that your feet are not reaching too far forward, and make sure that when you are pedaling your knees have a little bend. In addition to these adjustments, you can set your time and pace, and maintain an individualized ride, by adjusting a few settings. The NuStep is one of the safest pieces of equipment for seniors, and it can give a great workout for the upper body, lower body, or a combination of both.
4. Adjust Weight Machines
Adjusting the weight machines is probably the only aspect in adjusting that needs good attention to detail, especially for the senior population. Some machines require adjusting seats, legs, arms, and back rests, and you will also need to adjust the weight stacks. For any senior starting out on exercise machines, it is best to have an exercise physiologist or trainer adjust the settings with you in order to have everything where it should be. In addition, correct adjustments will make your exercises more effective and can help eliminate injury.
5. Adjust the Biodex Balance Machine
Adjusting this machine requires primarily knowing where to place your feet each time you step on it. As a critical aspect in senior fitness, balance training will help work on balance, and this means working the mind, eyes, ankles, and feet. With a correct adjustment on a balance machine such as the Biodex balance training system, you will be ready to safely explore this aspect of your training to help prevent and reduce falls.
***
If you have any special tips for equipment safety and would like to share, please add them to the comments section below. We are always looking for personal experiences with equipment adjustments, and any additional tips are valuable.
Are sure where to start in measuring your liability? Click below for our checklist for managing your fitness center liability.