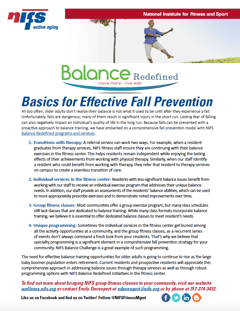 You know the cycle: A resident is afraid of falling so he doesn't engage in activities he associates with falling. By limiting his activities, he increases his chance of falling.
That's where a comprehensive balance training program like NIFS Balance Redefined offering comes in.
The weekly balance class on your group fitness calendar is a good start, but it's not enough.

If your community isn't offering comprehensive balance training, you're missing an opportunity.
Download our quick read to see how improved programing in your senior living community can help benefit your residents and decrease their risk of falling.