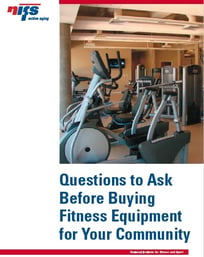 It can be tough to wade through all the sales messages about exercise equipment. The reps will tell you that their equipment is perfect for older adults, but how do you know that's really true? You don't want to put down several thousand dollars only to find the equipment you purchased wasn't a great fit for your residents.
Do you want key questions to ask your sales reps about the equipment you're considering and how it works for the audience you're serving?

Would it help your decision process to have a picture of the key features to look for on different types of equipment?

Would you like to fine tune your selection process by understanding the real needs of your current residents and the goals for reaching future residents?
Before you issue that PO or sign on the dotted line for an equipment order, read through this whitepaper to make sure you have all of your bases covered.