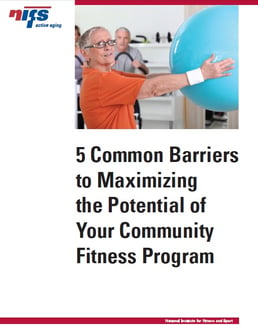 Did you know that with a little focus and some dedication of resources, you could actually transform the bricks and mortar into a true fitness program that elevates it beyond the bulleted list of amenities in your community?
Based on our experience, there's a good chance that at least some of the common barriers we've identified in our whitepaper on maximizing the effectiveness of your community fitness program will resonate with you. Read below and see how your community stacks up on these common issues.
Staffing - Do you have a program manager? What are the credentials of your fitness staff (including group fitness instructors, personal trainers, etc)?
Group Fitness - Are you maximizing your financial and real estate resources to provide the most current and effective class formats for your residents?
Collaboration - How do your fitness staff and other wellness-related personnel collaborate on building a healthy culture at the community?
Membership Standards - Are you protecting your residents and your community by following industry-standard guidelines for your fitness center?
Program Evaluation - What data are you capturing in your program? How are you measuring program effectiveness?
Think you might have an opportunity to break through some of those barriers? Download our whitepaper, and get busy improving your community fitness program.