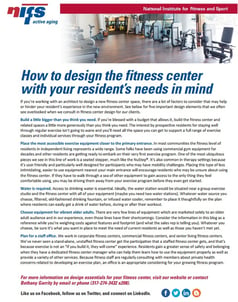 If you're relying 100% on your architect to layout your new fitness center perfectly, you may be missing an opportunity. Unless the architect has experience working in fitness in senior living, he/she is likely to miss important design elements that make your new space truly beneficial to the residents. Download this quick read to get insight into concepts like:
What's the right size to meet our program needs and potential growth?
What's the best equipment layout to create an inviting space for all of our residents?
This easy read will help your design team start thinking about the best way to set up your new space for a successful and growing fitness program. Fill out the form on the right to download it now.