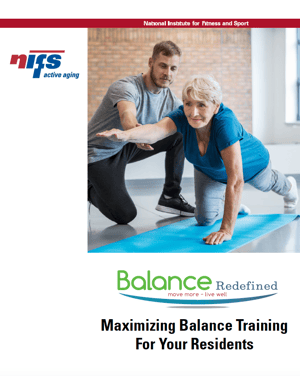 One of the many reasons older adults make the hard decision to move out of their home and into your community is because of their personal safety. They may have suffered a fall or had some recent near misses that left them anxious about their potential for suffering serious injuries from a fall.
Despite that common refrain from prospective residents, many communities still don't have more than a basic balance class as a fixture on their group exercise calendar. Simply put, the class isn't enough. There is much more that can, and should be offered, to help residents improve their strength, balance, flexibility, and confidence.
This ebook outlines our evolution on fall prevention programming through the community fitness center, and its a great place to start if you're ready to do more for your resident's peace of mind on falling.