Expanded amenities resulted in opportunities for more programming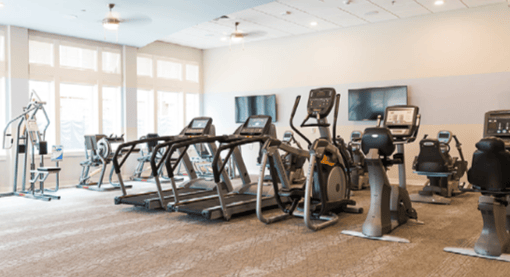 "We were very busy during construction and it was great to have NIFS as a partner to do all of the legwork for us and to be a steady resource as questions arose. We could trust their expertise to guide us and make our lives easier."— Ashlie Burnett, Director of Community Life Services
Throughout this journey of expanded programming, the buzz and chatter amongst an active resident population centered around phase II of construction when a new Healthy Life Center would be brought to fruition including an aquatics center and expanded fitness amenities. As a NIFS client location, the Heritage benefited from our design consulting services to support their new space.
Park Springs uses NIFS management to keep their fitness program on the cutting edge.

"Since the inception of our NIFS partnership we've been able to increase the number of classes offered and participation in classes and fitness center usage has grown by 24% – a huge nod to the success of partnering with NIFS." —Jennifer Durham, Community Life Services Director
Early into our partnership with Park Springs, we were able to understand their vision for the community's future, and we personalized our programs and services for their vision. Because the community already had an established exercise program when we started working with them, our primary focus was on ensuring all elements of their fitness program were operating at the highest level possible to match Park Springs' brand as a top tier senior living provider. We brought them services such as:
Program credibility
Member engagement data
Unique and successful programs
Below is a snapshop of data from NIFS program with Park Springs . To learn more about how we've supported their brand, read the full case study.

Sagewood's brand new community embarked on a new partnership with NIFS

"NIFS is an intricate part of our wellness philosophy and supporting the overall well-being of each of our residents. The true advantage of incorporating NIFS from day one is illustrated by the development of the custom programs that have grown with our residents from the beginning." —Verna Chisman, Community Life Services Director
Even before their doors were open, Sagewood leadership understood the true value of creating a healthy environment where residents felt supported, encouraged, and able to take on new exercise challenges with their neighbors. Ultimately, Sagewood took a chance on NIFS; they sensed an opportunity to chart untraveled territory with a brand new vendor, and they embraced it.
We started out with a 20-hour per week Manager in their fully-stocked fitness center. Within six months of the community moving in their very first residents, Sagewood was ready to move to a full time Manager from NIFS, and today, the exercise program at Sagewood continues to grow. We now provide two full time staff, a robust personal training service, and exercise programming in Acacia, Sagewood's health center.
Residents have access to free fitness testing, and personalized exercise programs. They also participate in a host of NIFS-led group fitness classes that challenge balance, improve strength and endurance, and provide social support. The NIFS staff also worked hard at collaborating with a variety of Sagewood staff to offer large-scale programs across the community span the community such as the Balance Challenge, and Active Aging Week.
Learn how our staff play an integral role in Sagewood's outreach to prospective residents.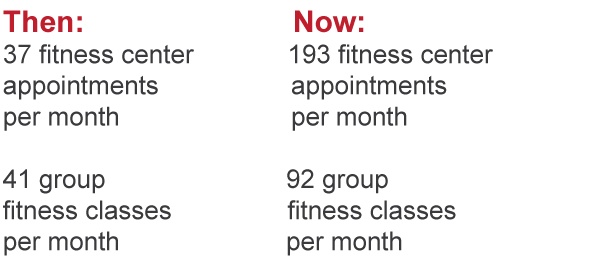 Marquette and NIFS build a wellness center that is the heartbeat of the community.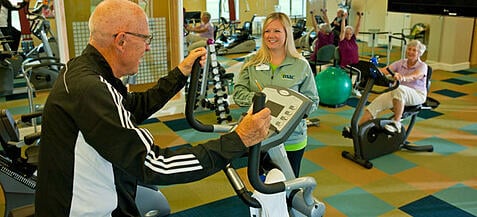 "I can't begin to describe how satisfied we are with our relationship with NIFS. Marquette's commitment to senior wellness, coupled with the experience and leadership of NIFS has provided a vibrant wellness program that is a cornerstone to our marketing and sales efforts. NIFS's plays a vital part in our success." —Jonathan Cook, Former Executive Director
NIFS's relationship with Marquette began in 2004, with a fitness center staffing model we often see in place today. Very quickly, however, Marquette's leadership realized that their current part-time fitness center manager, who worked one-on-one with residents and also taught weekly group exercise classes, wasn't enough for their community. Marquette wasn't interested in status quo. They never have been. They were, and continue to be,
focused on growth that is on the leading edge of change.
We grew management of the community's fitness program to a full time position and maintained NIFS quality classes and other services for residents.

In 2008, the Executive Director came to NIFS requesting our support to help him launch his vision of the next phase of wellbeing at Marquette. We answered that call by supporting the wellness center design process and collaborated on a new staffing model to support the expanded space and programming.

A modest investment and new partnership with NIFS revitalized North Oaks faltering fitness program.
"I remember, at North Oaks when not so long ago the perception was that residents did not care to exercise. Now, they want to engage in fitness at the community and through a strong program and effective leadership from NIFS. We are making a difference in their lives!" —Warren Naviasky, Vice President, Senior Housing and Marketing
When we first connected with North Oaks in 2010, they were focused on resetting their existing fitness program both in terms of the physical space and the leadership. They didn't have a shiny brand new space, and they didn't have a big budget. Our first step with North Oaks was to listen; their leadership knew what they didn't want and they were crystal clear about that. We used that information to help them identify how to move forward.
They knew that the original location for their exercise equipment wasn't ideal and they had options for where to move the fitness center. We provided layout options along with a few equipment recommendations totaling $4700. Within a few weeks, North Oaks had a fitness center they could brag about.

With a new space outfitted, North Oaks began a fitness center management partnership with NIFS for a 20 hour per week manager.
NIFS annual Move Your Feet To Help Other's Eat initiative hits a sweet spot for North Oaks. It's that perfect blend of fitness, fun, and philanthrophy. You can learn more about that program here or listen to what a VP of sales and marketing thinks of this simple but effective program. Recent results from this initiative are highlighted below.

Our operational and programming expertise can help you in the areas of:
Facility layout and design services
Organization structure
Hiring credentials
Balance & fall prevention programming
Group fitness