NIFS staff bring one client's "integrated fitness environment" to life.
"Our CEO made that very clear when we did the ribbon cutting; he expected us to be healthy and fit and we should use the facility." -Jeff McClain, member at LIFE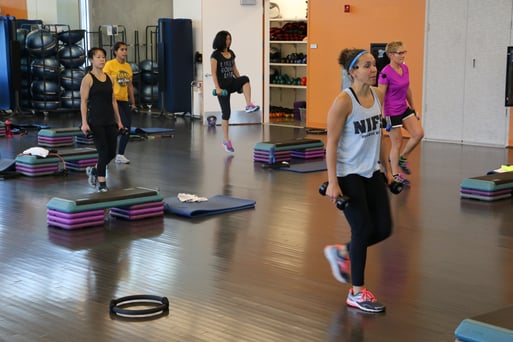 This client believes that treating their employees well is a key to their success as an organization and providing NIFS as their corporate fitness management company is one piece of their strategy focused on employee wellness.

When you watch this client profile video, you'll hear one participant talk about happy and healthy employees translating to more productive and team-focused employees. Based on some of our offerings for this client group, which includes 11 unique corporate fitness centers, we think they must have some of the most productive employees on the planet! Here's how we're successfully supporting this client:
Desk to 5K: We ran this program, client-wide, for the first time in 2014. It required a lot of coordination between our staff and the different fitness centers to host training groups and align all of the program pieces into a culminating 5K event for more than 200 employees and their families.


In our Be Active Be Fit program, participants were encouraged to earn 150 physical activity minutes each week for eight weeks. Find out more about how we set up and evaluated the success of this program.



In addition to continuously providing creative programming, we are regularly evaluating satisfaction ratings for the members in the corporate fitness centers we manage. Among other findings, we learned that employees see our staff as the #1 support element that helps them get regular exercise. See below for other findings with this client

Farm Bureau Insurance uses NIFS management and staff to elevate fitness programming for their employees.
"I feel comfortable in classes or in one-on-one sessions with Keith. He's personally helped me lose baby weight twice while staying in shape during my second pregnancy. He's been a tremendous resource, and since I started working out regularly, I take fewer sick days and have more energy." —Sarah Miller, a longtime member of the Farm Bureau Fitness Center
Farm Bureau was tired of seeing its corporate fitness center mostly empty and underused. They knew they had a great resource available to employees, but piecing together contractors for group fitness classes wasn't working, and it required valuable coordination time from employees. Fortunately, NIFS's manager at Farm Bureau, Keith Ledbetter, has an uncanny ability to build relationships with people and to keep fitness fun. That makes him a perfect fit for this client because those two skills have been absolutely crucial to creating the successful fitness program that Farm Bureau enjoys today.
Read the case study to find out more about some of Keith's crazy (and effective) program solutions, as well as how Farm Bureau describes his interaction with their employees.