We'll handle your fitness center so you can get back to work.
You're looking for a professional, well-run corporate fitness program that will help your employees move more. We've been helping our clients achieve that goal for the last 30 years.

Facility Layout and Design
We have designed dozens of client fitness centers with diverse equipment options that meet the needs of a corporate fitness environment. Download samples of our fitness
center designs here.

Hiring Credentials
Providing the best staff in the business.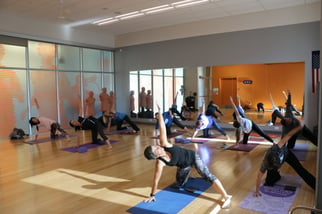 Group Fitness

Programs and Services
---

Exploring new avenues to enhance your employee wellness program?
Your business and your employees are unique. They need a customized approach whether in the office or working remotely.
NIFS HealthYou program is designed to meet the diverse needs of your workforce. This person-to-person solution offers your employees contact with a health expert who is dedicated to helping them make healthier choices. NIFS HealthYou coaches can be on the ground at your business offering a robust wellness program to your employees and/or can support web-based programming for your remote workforce.