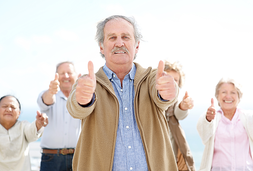 While many residents aren't burning the midnight oil to ring in the new year on December 31, that doesn't mean that the spark of renewal and enthusiasm to embrace a new year is any less for these folks. The new year is a great time for senior living communities to launch or promote their community wellness program.
It's important to utilize the momentum that a new year can spark for some residents, while also helping to uplift residents who may have struggled through the holiday season. Here are a few tips for helping your residents embrace the New Year:
Education: A wellness-based lifestyle can be a foreign concept to some older adults. Hold an educational lecture series highlighting the multiple dimensions of wellness. Describe the different dimensions of wellness and provide residents with examples of the regularly scheduled activities they can get involved in at the community related to the featured dimension.
Fitness: Help residents establish short- and long-term fitness goals in the new year and help them track their progress. Recognize when goals are met to help residents feel an early sense of accomplishment in the new year while further helping them continue to strive for longer-term goals.
Incentivize engagement: Schedule special activities in the first couple months of the year that touch on the different dimensions of wellness. Flag these activities on your calendar and tell residents that they will be entered into a prize drawing for each activity they participate in. You can also host a party for those residents who attend each of the special activities.