This blog was written by Mechelle Meadows. Meet our blogging fitness specialists at the NIFS website.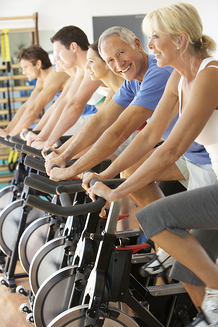 We've all learned that exercise can play an enormous role in lowering one's stress level and boosting a person's mood. Supervisors in the workforce are no different—regular exercise has been shown to help those in management roles more effectively cope with their stressors.
This article writes that, unfortunately, when supervisors become overwhelmed with workplace pressures, their direct subordinates are the ones who become victims of the supervisors' venting, hostile behavior, or negative comments. Therefore, regular exercise routines can not only enhance the physical and mental health of the supervisors, but also the wellbeing of the employees working for them.
Another reason why supervisors, especially those in a company's upper management, should exercise is to lead by example. When you talk to an average new employee about exercising at the worksite, one of their fears is that their boss might view them as slacking off or just looking for ways to get out of work. When supervisors make exercising in their corporate fitness centers a priority, it shows to their subordinates that taking time for one's own health is important and acceptable, provided that work duties and deadlines are still being met.
On a larger scale, when upper management, including CEOs and vice presidents, make fitness a priority, it sets a healthy climate for the entire company.
If you are a supervisor of even one individual, consider how your healthy—or unhealthy—choices can impact those around you. Set the standard in your work environment by becoming a leader in health.