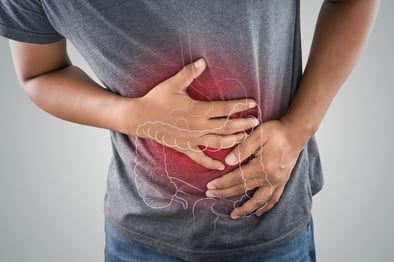 I keep finding more and more news stories, magazine articles, social media ads, and even store displays that contain the words "Gut Health." 10 years or more ago, you never heard that phrase anywhere, but now it's all the rage. So, why all the buzz? Well, it turns out that research has linked gut health to a variety of functions in your body.
Let's Dig Deeper
Gut Health is basically a generic term referring to a diversity of issues that can occur in the GI tract or digestive system. The GI tract includes the mouth, esophagus, stomach, small intestine, large intestine, and anus. The digestive system includes the liver, pancreas, and gallbladder. That's a large variety of issues and organs for such a small term. "Gut microbiome" is another phrase that goes hand in hand with gut health and refers to the community of bacteria that makes up your digestive system. There are billions of bacteria in your gut microbiome, and much of that bacteria is very beneficial. However, when there is bad bacteria or damage to your microbiome or gut, your body reacts in a negative way.
The Unhealthy Gut
Some signs of an unhealthy gut include upset stomach (gas, bloating, diarrhea, constipation, heartburn), unintentional weight changes, lack of sleep or sleep disturbances, skin conditions or irritations (eczema), autoimmune conditions, or food intolerances. Researchers and physicians are finding more and more conditions that are directly linked to gut health.
Now comes the big question: what do you do? Fortunately there are a lot of ways you can change your gut health. It definitely takes time, but you will notice a difference in how you feel.
The Healthy Gut
Here are some things to do to prevent bad bacteria from forming in your microbiome, and boost those healthy bacteria levels to increase your gut health. Even if you don't experience any symptoms mentioned above, these are good practices to keep your whole-body health in check:
Lower your stress level. Easier said than done, of course! Exercise, meditation, socializing with friends and family, and even having a pet are all ways to reduce stress.
SLEEP! You truly do need that uninterrupted 7 to 8 hours of sleep every night. Believe me when I tell you that sleep really matters! My gut health tells me when I am not sleeping well. I can't digest any food properly and I feel groggy, bloated, and ill half of my day. As soon as I have several days of good sleep in a row, my body thanks me and responds appropriately.
Eat slowly and chew your food. Your food will digest better, and it helps decrease any bloating, gas, constipation, etc.
Stay hydrated. Staying hydrated helps the mucosal lining of the intestines and promotes digestion.
Take prebiotics (food) or probiotics. This is something you should discuss with your physician or healthcare provider because probiotics are not for everyone. Prebiotics are in foods and help generate good bacteria. Some examples are bananas, apples, oats, garlic, and onions. Probiotics are actual living bacteria and can be taken in a supplement form or in foods such as yogurt, kefir, and kimchi. Too many probiotics can cause bacterial overgrowth, so be sure to discuss it with your physician.
Check for food intolerances. If you notice consistent gas, constipation, bloating, rash, nausea, fatigue, or abdominal pain after eating certain foods, you may have a food intolerance. Your healthcare provider can help you test for these. Once you identify trigger foods and eliminate them, your digestive system and how you feel may improve.
Change your eating habits. Eliminating processed foods, trans and hydrogenated fats, refined oils and sugars, conventional meats, and even pasteurized dairy products could lead to better gut health and a healthier microbiome. These foods have been shown to cause inflammation in the body, which can contribute to an unhealthy gut.
It's Your Turn
This is a lot of information, and may even sound overwhelming! However, this is an important part of living a healthy lifestyle. Much of your body functions based on your gut health. The healthier your gut, the healthier you are in general. I am speaking from experience when I tell you that making the small changes listed above can truly help you feel better and be healthier.
You can read more about gut health here.