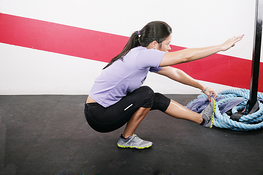 Does the Insanity® workout really work? This is perhaps the most intense workout on the market today. It, along with P90X, has been put into the extreme fitness category. In my preceding post, I explored the positives of the Insanity workout. This post is dedicated to the precautions to be taken when participating in this style of workout.
Insanity is an innovative workout, using high-intensity exercise and body-weight moves to give a total body conditioning. However, some of the moves may be too advanced for the general public. As a former NCAA Track and Field athlete, I enjoy Insanity. It reminds me of the drills and training I experienced as an elite competitor. However, if you do not have a background in sports, have orthopedic limitations, or are beginning exercise after being sedentary, this program might be too intense starting out. Extreme exercise can cause unexpected results, including sprains, pulled muscles, and even broken bones.
In speaking with people who have pushed themselves too hard, I have found some common mistakes that lead to injury:
Overexertion
Jumping too soon and landing too hard
Trying to execute difficult exercise for the first time
The Insanity program is designed for people who are already in shape. Unconditioned exercisers can participate if they take it slow and pace themselves. Get help from your corporate wellness center staff to learn safe approaches to the program. Don't feel discouraged if at first you can't keep up. In fact, if you take your focus off of Shaun T and watch the extras in the back, you will notice they have a tough time keeping up, too. Know your limits and gradually build up to your ability to begin and finish Insanity.