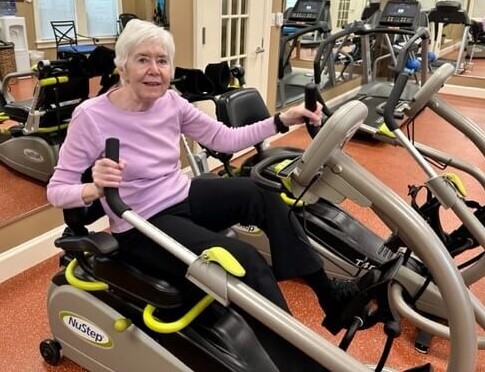 The NuStep is a great multifunctional piece of equipment. Did you know the NuStep can be used for more than just building endurance? You can build strength, cardio, AND endurance depending how you use it. This is what makes the NuStep such a versatile piece of equipment in a senior living fitness center and why NIFS has partnered with NuStep for Pump it for Parkinson's on Tuesday, April 11! This one-day event invites senior living communities across the country to come together, learn how Parkinson's Disease affects our friends and neighbors while raising awareness on the benefits of exercise for those fighting back against the disease! We'll be utilizing, you guessed it, the NuStep! Participation is free and communities will have a chance to win a NuStep T6 Cross Trainer. We'd love to have your community help us meet our goal of 1 million steps to honor the 1 million people in the US with Parkinson's Day! Visit our Pump it for Parkinson's page to complete your community's registration and receive free tools to help in your planning.
As for taking your residents' workouts to the next level on the NuStep, check out these great coaching techniques!
Using the NuStep for Endurance: Besides just getting on and going, have a plan when trying to build endurance with the NuStep. To help build endurance, make sure the resistance of the machine is moderately set. About a 4-6 on your 1-10 RPE (rating of perceived exertion) scale. Make sure you are maintaining your steps per minute! To help improve your endurance over time, add one to two minutes to the duration of your exercise session every week. This can help you go for a longer amount of time without taking a break.
Using the NuStep for Strength: To build strength with the NuStep, try this simple workout. After a warmup of about five minutes, turn your resistance up to a challenging level, about a 7-9 on your RPE scale. Using only your arms (feet are resting off the peddles), row at a moderate to quick pace for two minutes. After the two minutes, switch to just using your legs (arms resting on the arm rests), also peddling at the same pace for two more minutes. After the two minutes are up and now using your full body, peddle for five minutes on the same resistance. Repeat the cycle for the duration of your workout. Building strength can help you maintain independence, increase bone health, and increase muscle mass.
Using the NuStep for Cardio: To increase your cardiovascular fitness, you can try interval or high intensity interval training (HIIT). This will help increase the functional ability of your heart and lungs. Make sure you warm up for at least five minutes at a low resistance. After your warm up, increase the resistance to a moderate-vigorous level, about a 7-9 on your RPE scale, and peddle quickly for 60 seconds maintaining your steps per minute. After the 60 seconds is over, lower your resistance to a 4-5 on your RPE scale and decrease your steps per minute for a 60 second recovery. Repeat for the duration of your workout. You can adjust the amount of time as necessary. 30 seconds on, 90 seconds off, and so forth.
Make sure you are finishing your workout with a cooldown and some light stretching. Also make sure you are using the NuStep with good posture and that the machine is adjusted correctly for you. Before starting a workout, consult your physician and exercise professional if certain types of exercise are right for you. The NuStep can be a great alternative to other equipment which may be confusing to use, difficult to get in and out of, or aggravates an ailment. Check out a variety of NuStep workouts by visiting their website!
Join us for our Pump It for Parkinson's Event and receive a free program guide and resources to host this event at your community, April 11! Click below for more information.