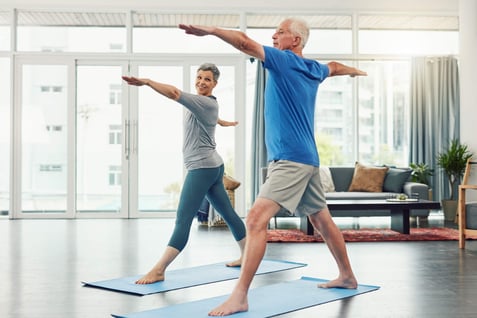 It isn't a secret that as a person ages, there is an increased risk of falling. While there are a few different reasons this risk can increase, we will focus on what impacts a person's ability to keep or put themselves in a steady position. One goal as a senior fitness professional is to introduce exercise as a tool to decrease your risk of falling. And we like to do that with a variety of exercises including a balance exercise focus. What is great about balance exercise is that it can be snuck into other favorite exercises or individual exercises to address a particular balance weakness. And often, the number one challenge that the aging population faces is their fear of falling which becomes their barrier to participating in the exercise in the first place.
Cue adding balance into your exercise routine! A wise person once said, "Practicing balance doesn't make perfect; practicing balance makes permanent!" Our fitness professionals will say the same thing. It doesn't have to be perfect; it doesn't have to take a long time; you just have to do it consistently to reap the benefits!
Not sure what balance exercises to start with? Consider the following when you add balance into your routine:
Already Exercise? You're a daily exerciser and you are wondering where balance fits in. My first question to you will be "what type of exercise are you currently engaging in?" Do you walk? Do you do resistance training? Do you play sports/recreation? The great part of this is that any exercise contributes to better balance, but now the key is to evaluate how to challenge yourself (we will talk about that more later)! Since you engage in a type of exercise, consider adding in balance specific exercises for 10-15 minutes 2-3 times per week. A few examples could be:
Standing heel raises and toe raises.
Stand with your feet wide and shift your weight side to side.
Single leg stands.
Side steps (step out to the right and bring feet together and then to the left)
Prepare for balance! Remember, all the exercises in the world will not do any good if you don't follow these simple safety rules:
Wear proper shoes. Your ankles and feet need good support. No sandals or fancy shoes!
Utilize your strong muscles first. Get to know where your current balance is by using your strongest muscles. For example, a NIFS staff member wrote a great blog on starting from the ground up. The feet and ankles are our main support and knowing if the strength is there, is a good place to start. For example, single leg stands are challenging! And if your legs aren't up to it yet, keep the opposite foot's toes lightly resting on the floor for support.
A mirror is helpful. Look at yourself when you attempt to balance, check your posture, and note what your limitations are (such as knee replacements or back issues).
Stand on good flooring. Do your exercises on stable and level ground. If one side is higher or more unsteady than the other, you will be the same.
Use stable support. Make sure that there is a stable chair or counter available. As you practice, you will need occasional support when you feel unsteady. The main goal is to prevent falling.
Avoid fast movements and position changes. Slow down! Learn to turn and react with deliberate patience. Incorrect weight shifting is the number-one cause of falls. So, when you go to move or turn, remember to be as cautious as possible. What's the real hurry? Let your body catch up with your mind's intent.
Practice balance by challenging yourself! Just like with most exercises, your body becomes used to the movement (hopefully anyway!) After you have become comfortable with certain exercises, the next step is to practice exercises that force the body to feel unsteady and this will help the body become steadier. For example, if you're capable of supporting yourself while raising both arms out and holding them for 10 seconds, next you can incorporate holding on with one hand and lifting one leg out to challenge yourself. Over time you can regain better balance.
These are just the basics when it comes to adding balance into your exercise routine. Keep in mind, these start with someone who has a basic understanding of exercise and balance, so if you are new to exercise NIFS highly recommends connecting with your primary physician before beginning new exercises and if it is available to you, working with a fitness professional to guide you along can keep you on track and challenging yourself.
Interested in learning more about how NIFS Fitness Management helps seniors across the country incorporate balance in their routine? Learn more about our signature program in our client locations by clicking below.