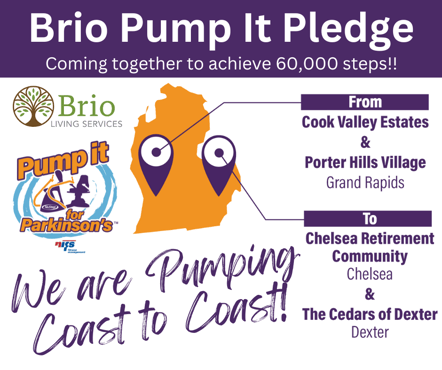 The National Institute for Fitness and Sport (NIFS) is thrilled to have the support of the Brio Pledge as part of Pump it for Parkinson's on World Parkinson's Day! This nationwide event is promoting the benefits for exercise for those living with Parkinson's Disease and 140+ senior living providers across the US are participating. Brio Living Services has committed a pledge of 60,000 steps on the NuStep Cross Trainers which their communities will track on Tuesday, April 11.
Participating Brio locations will be Chelsea Retirement Community in Chelsea, Michigan, The Cedars of Dexter in Dexter, Michigan, and Porter Hills Village and Cook Valley Estates both in Grand Rapids, Michigan. Communities will enjoy learning more about the second most common, age-related neurodegenerative condition at the Parkinson's Education Station and employees and residents will be able to contribute steps on the NuStep Cross Trainer to go towards the Brio Pledge. NIFS is grateful for the support and collaboration of all four communities working together towards our larger goal of one million steps. This is a strong example of how not only residents can unite within a community to raise awareness but how a network of communities can unite for an even bigger impact! The Brio Pledge is a testament to the strong leadership in Brio communities and their commitment to creating healthy programming and vibrant living options for their residents.
Nicole Maag is Chief of Residential Services with Brio supported the Pledge! Brio Living Services is delighted to join the National Institute for Fitness and Sport (NIFS) and NuStep to celebrate Pump it for Parkinson's on April 11. NIFS is a valued partner of Brio, providing wellness instruction for our residents at Chelsea Retirement Community, Cook Valley Estates, The Cedars of Dexter, and Porter Hills Village. Our residents and team members are honored to join in NIFS' challenge of one million steps for the one million people in the U.S. who are living with Parkinson's Disease. We hope to promote awareness for the important benefits of exercise for all of us as we age.
NIFS Fitness Manager Tyler Forbes is pumped for the event at his communities! On behalf of the fitness department here at Porter Hills Village and Cook Valley Estates we are beyond thrilled to team up and participate in the upcoming Pump it for Parkinson's event. We see the value in overall awareness of this disease and how support for those dealing with it can make such a huge impact. We are ready to ROCK!
NIFS Fitness Manager Tylene Costello has big plans for a successful event! Chelsea Retirement Community is very excited to participate because it has brought our AL, IL, memory care, and rehabilitation areas together to collaborate on this program. We have the same goal which is to bring awareness of the benefits of exercise for those suffering from Parkinson's. This will be a fun way for our residents and team members to exercise in this social assembly.
NIFS Assistant Director Lindsay Knox was honored to help The Cedars of Dexter plan! The beauty of Pump it for Parkinson's is how creative we can be to make it fun for the residents and fit the needs of the community. I can't wait to see what the residents at The Cedars of Dexter accomplish!
NIFS wishes Brio communities the best of luck for a successful and fun event with your residents and employees and we thank you for participating!
If you are an operator or network of communities looking for a collaborative event, competition, or challenge to unite your communities and spark engagement, contact the senior wellness pros at NIFS Fitness Management.