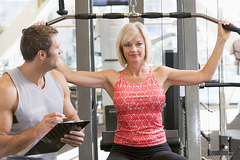 Have you heard this interesting story regarding personal trainer Drew Manning? Manning was what his wife called a "judgmental trainer," and he admits that he would look at his overweight, struggling clients and think that they must choose to be lazy. Surely if they cared about their health enough, they would just make changes instead of blaming their genetics or other factors, Manning thought.
Trainer Finds Drastic Way to Learn Empathy
So, to put himself in his clients' shoes, he took it upon himself to gain 70 pounds by foregoing his workouts and eating a new diet of junk food. What he found out is that beyond the physical effects of weight gain, he was a different person mentally and emotionally as well. He became self-conscious, insecure, and lethargic. Next, he quickly returned to his former fit self, dropping the 70 pounds and regaining the muscular build. But he now has a heightened sense of empathy for his clients.
As corporate wellness professionals, are we finding empathy with our clients? It's true that making healthy choices is exactly that—a choice that only an individual can make. But, are we understanding of the many factors at play in our clients' lives and aware of possible feelings of guilt or embarrassment when they carry extra weight or lack the strength to perform certain exercises?
Be Mindful of Clients' Emotional Factors
I would never suggest that we pull a risky stunt of gaining and losing large amounts of weight like Manning did. However, we can make it our job to use patience, reflective listening, and a nonjudgmental attitude to be more understanding of how our clients are feeling mentally, not just physically.