Mandy Kisamore was a little reserved when we first met. She is not a jump in the front of the room type of person. She came to a few classes and then became more of a regular. After a while she started to hang around after class and ask questions that began with her and then shifted toward her children, and her family. She has done a lot of work from when she started and it hasn't stopped with her. Check out her story about how she transformed herself and her family. It has been extremely rewarding to be able to be a part of Mandy's success.
Transforming Myself and My Family
Exercise was not one of my favorite things to do. It was never fun; I would never look forward to it, or hate to miss a class. Today is a different story.
Three years ago I started to get serious about taking care of myself. This transformation has been, and continues to be, a struggle that I have to work on at every class, at every workout, and every time I exercise.
Here is my story. In the beginning, my family and friends would always tell me that I needed to find some "me" time. Having a husband and two kids at home, finding "me" time was the last thing I thought was a possibility. After thinking about this "me" time that I apparently needed, I decided that I would start checking out the gym at work and the classes that were offered. I thought that would be something positive for me, mentally and physically. That could be my "me" time, one night a week for 45 minutes.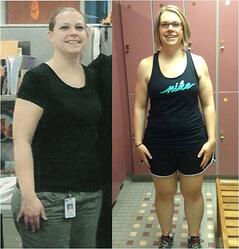 Of course going to the gym itself is overwhelming, and joining a class for the first time was terrifying for me. I found myself frustrated during the past three years because the scale did not tell me the number I wanted it to. I have had to shift my thinking to look at the inches I have lost, the new pants I have had to buy, the muscles I have built, and the confidence I have gained. During the past three years I have had some setbacks which were frustrating, but I know that I cannot stop now. I feel that I have come so far that giving up and going back to where I was is not an option for me. I started with a lower body class, it was only 30 minutes and who doesn't want a better back side? A few friends and I started going to the class together. It was definitely a good decision to start with people I knew. To my surprise, I ended up enjoying the class and started going once a week. I attended this class for a month, and then added two classes a week for the next month, then three a week the next month. I soon found myself going to as many classes as I could fit into my schedule. As time went on, I could feel how much better I felt inside, and I could see the changes that were happening to my body. These helped me stay motivated and continue trying different exercise classes.
My motivation to keep pushing through and continuing to make this more of a lifestyle change than what started as just a way to find "me" time is definitely my family. To see the changes and the positive thought process this "me time" has brought to my family is amazing to see. At one point during this journey my son said he was proud of me. That was such a motivator for me to keep going no matter how hard it was, or how much I didn't think I could keep up with it. Since then, my kids have started paying attention to their eating habits, and exercising because they want to. My husband, sister, and father have been making changes to be healthier as a result of what I have started. It is wonderful to see that what started as one group fitness class has turned into a positive change for my entire family.
To me, every positive change you make is a success, whether it is stepping foot in the gym, joining your first class, or trying a healthier meal out on your family. These changes can lead to so many more positive changes in your life. Although I haven't reached my initial goals yet, I have found the smaller goals I have made are just as important. I have to remind myself of what I've already accomplished, and that I am a work in progress. I am going to keep trying to be a better healthier me, for myself and my family.
Interested in helping your employees make great strides in changing their habits to live healthier lives? Checkout NIFS Fitness Management Services to see how we help your workforce.
*Weight loss claims or individual results vary and are not guaranteed.