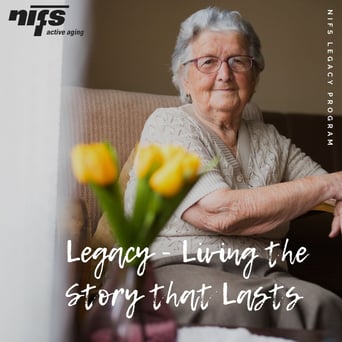 In February, you may have read about NIFS Legacy Program which was run at a number of our senior living client sites across the country. Many fitness centers were considering programs to promote cardiovascular health for Heart Health Month and this initiative had its own way of tugging at the heart strings. As I was reviewing the monthly reports that our staff were submitting highlighting their program offerings and participation in the month of February, I was touched by this quote from our Wellness Director, Candace Montgomery, at The Chesapeake in Newport News, Virginia, a LifeSpire of Virginia community. NIFS has been partnered with LifeSpire since 2016 to manage their Vibrance program across three of their communities. As you read below, you'll understand how the resident response to this program exemplifies how LifeSpire is committed to creating joy, purpose, growth, and community in daily living for their residents and we are honored to help create these experiences.
"We took part in NIFS Legacy Project which was a huge success for our Independent Living, Assisted Living and Healthcare residents with 74 participants. It was very interesting learning about residents lives and memories that they jotted down during this project. This project was also very touching for many residents who live in Independent Living but have spouses in Healthcare. One resident in particular came to our fitness office in tears of joy about the heartwarming conversations she had with her husband in Healthcare regarding their life and their children and all of the happy memories that occurred. This is truly what the Legacy Project was all about!" - Candace Montgomery, NIFS Wellness Director
Candace is absolutely right. That IS what it's all about and I see and feel so much from reading her summary.
I see a compassionate and creative wellness professional who values the stories that her residents have to share and a team-oriented approach that was needed to make this program a success.
I see 74 residents across all continuums of care participating in a program that gives them purpose and warms their hearts (all of our hearts frankly).
I see a couple reminiscing about the beautiful life they continue to share because they are receiving the care and support they need in a nurturing environment.
And I see family members receiving a keepsake that will be cherished for generations to come.
All four of these bullets shine a spotlight on the impact that quality wellness programs can have on your staff, residents, and their families; all were enriched by this program.
While many know us as a fitness management company, our staff are regularly offering holistic programs of this nature to support the overall well-being of the residents we serve. In addition, we strive to bridge programs and services throughout the continuums of care to benefit all residents. Here are a few tips to help carry programs that are offered to your IL residents over to your licensed areas with a little creative planning and teamwork.
Thank you to Candace and the team at The Chesapeake for enriching lives of the residents in your community and for enriching us from afar with your story.