In every fitness center setting it seems that the goal is to provide the most up-to-date, "trendy" group fitness classes and personal training. And while I agree that trying to offer something new and exciting is very important, I also think that sometimes we need to bring fitness back to the basics.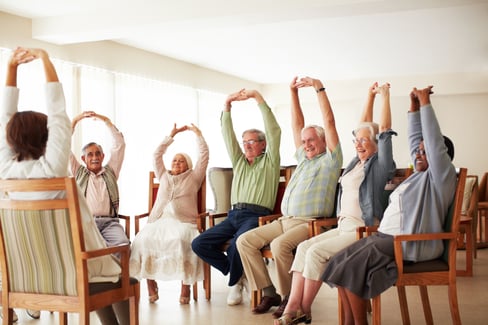 This is very important at a senior living setting. Many of our senior living communities support active living for several hundred people and providing fitness services appropriate for every fitness level can be challenging. It easy to cater to the "most active" group of participants. But we wanted to make sure we were reaching as many different residents as possible, so our fitness center staff challenged ourselves to take it back to the basics by providing a personalized group training that focused on the "bare bones" of exercise. And let me tell you, it has been some of the most rewarding work I've done to date!
While I can't deny that fitness professionals get a thrill out of providing a tough workout in a high intensity class and hearing "that was hard," I can honestly say that providing an appropriate workout for those who need to take it back to the basics of fitness is also just as thrilling. Being able to coach a member to stand up from his chair independently when he hasn't been able to in a long time can make your heart swell with pride for his accomplishment.
Now I'm taking that "back to basics" challenge to you dear reader. If you work in a senior fitness setting, take a look at your membership. Start identifying the needs of your members who struggle with standing, walking, overall balance, basic strength, and most importantly their confidence! One of the criteria we used when we started evaluating who might benefit most from "back to basics" programming was to begin with members who tend to get a little behind in class and do not reap the full the benefits.
Once you build that member list, start reaching out individually to target specific fitness and functional living needs. Then watch how your overall participation numbers grow and how the increased confidence of some of your more frail residents helps them gain additional strength for every day needs. This experience has surprised me; I didn't expect that getting back to the basics would be so rewarding and exciting, but it has been an absolute joy. Have a similar story to share? Respond the comments below.