This blog was written by Anna Hiple. Meet our blogging fitness specialists at the NIFS website.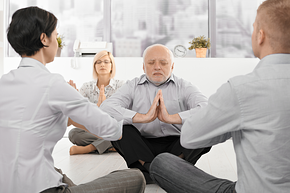 Do you find it difficult to make exercise part of your daily routine? You may be surprised at just how easy it is to squeeze in bouts of activity. Lunchtime is one such opportunity. Not only will you torch a few calories, you'll tackle your afternoon tasks with a clear mind and increased energy levels.
Hit the Corporate Fitness Center
Consider visiting a local or corporate fitness center to complete your own workout or take a class. Just be sure to increase the intensity (think circuit training) to compensate for the fact that you may be performing a shorter workout than normal. Leaving your office for a walk or a run is also an appealing option to many people. Don't want to do it alone? Organize a walking group! On days like these, it's probably a good idea to bring your lunch from home to ensure you have enough time to eat.
Exercise in Your Office
No time to get away from your home or office? Mix bodyweight strength-training exercises such as pushups, squats, lunges, and sit-ups with cardiovascular exercises like marching, jumping jacks, stationary jogging, or jumping rope. Small hand weights or resistance bands can be tucked away in a drawer for a workout at a moment's notice.
Just Get Moving at Lunch
At the very least, get up and get moving on your lunch break. At work, walk a few flights of stairs or do some laps around the building. If you need to purchase your lunch, skip the company cafeteria and walk to a restaurant (a healthy one!) that's farther away.