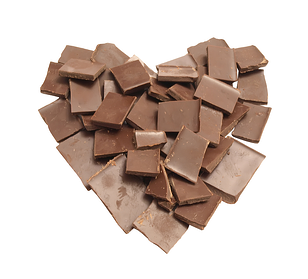 It's Valentine's Day… the chocolate lover's favorite holiday! With boxes of chocolate at home and bowls of goodies at the worksite, you can't help but indulge. You've heard it all before: dark chocolate is better for you than milk chocolate, everything in moderation, and so on, but is one really better for employee health than the other? Let's divvy up the facts before we divvy up the chocolate.
We know that chocolate is derived from the cocoa bean, but where do the health benefits come from?
Antioxidants: A high concentration of antioxidants has been proven to come from the cocoa bean. These chemicals aid the body in eliminating free radicals that promote disease and cause damage to the cells in your body.
Flavonoids: Epicatechin, which is found in the cocoa bean, helps to improve cardiovascular function by improving blood circulation and relaxation of the blood vessels, which in turn helps to improve blood pressure. A chocolate a day just might keep the heart doctor away!
So what is the difference between milk chocolate and dark chocolate?
Dark chocolate contains little to no extra sugar and a larger quantity of cocoa (60 percent or more). This increases the amount of flavonoids; therefore, there are more antioxidants present. Since milk chocolate contains milk, along with added sugar, the flavonoids are at lower levels due to a possible interaction with milk. This leaves dark chocolate healthier. By choosing dark chocolate, you can also reduce the risk of blood clots, improve your mood, and help lower cholesterol levels.
It's recommended that you choose chocolate that is at least 60 percent cocoa and consume only one ounce per day, which is equivalent to about one piece of Dove chocolate or 2 Dark Hershey Kisses. Forget the white chocolate; it contains no cocoa, so it provides no antioxidants for the body.
As hard as it might be, consume chocolate in moderation and don't overindulge.
With all this chocolate talk, what chocolate treat do you prefer on this chocolate lover's holiday? Leave a comment on our blog or visit the NIFS Fitness Management Facebook page and take our poll.