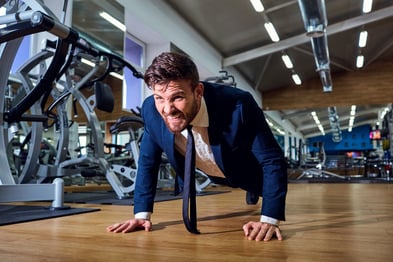 Corporate fitness centers are pretty low on the totem pole for most organizations. And that's how they end up just "existing" with the rest of the benefit items; they're on the list of nice things to have, but there's nothing about the corporate fitness program itself that tells leadership it's really thriving or performing well for the employees. If that resonates with you and what you're seeing in your worksite fitness program, it might be time to change things up.
Here are three signs that indicate it's time to take a fresh look at what's possible in your corporate fitness program.

#1: If You Haven't Seen Your Fitness Center Staff Out and About...
...its time to check in on how the staff are serving all of the employees (not just the corporate fitness center members). While it's likely that your fitness center staff are well degreed and credentialed for exercise, they also probably have some skills for promoting other areas of health. If they're not leaving the fitness center to provide additional worksite wellness programming, it's possible they were told that their domain is the fitness center and they should not be doing other health-related programming in the building. That's an easy one to correct; have the conversation with them and see what they can start offering across your campus to support employee health.
One of the beyond-the-fitness-center initiatives our staff members provide allows the employees to put up a signal at their desks that they'd like a quick consultation with the fitness staff. In one case, it was fun stress balls that were the signal; in another case, it was little green army men. Employees picked them up at a promotional table along with a flyer describing the at-your-desk exercise service. Then at designated times, NIFS staff walked the work areas looking for employees who had left out their signals. They provided brief consultations and exercise/stretch recommendations for employees at their desks, and they dropped off a membership application for the fitness center. In just one offering of this program, our staff interacted with an average of 40 new employees each week and picked up 15 new fitness center members directly from their consultation conversations with employees at their desks.
#2: If You're Not Getting Monthly Updates on How the Fitness Center and Related Programs Are Performing...
...it's time to at least ask for the data to see what the fitness management provider can produce. If the vendor isn't in the practice of tracking at least monthly visit and participation data, you may want to rethink the partnership because it will be a steep hurdle to get them thinking about data collection if that isn't already part of their business model. In truth, you should be able to count on at least two types of data from your corporate fitness center:
Monthly fitness center numbers: Total visits, unique users, frequent users (we track 5 or more and 8 or more visits per month), along with appointment volume and group fitness participation.
Program outcome data: Executive summary–style reporting that shows key outcomes from the initiative along with a program overview and plans for improvement in the next offering.
#3: If No One Has Really Raved in a While About the Staff or the Fitness Center Programs...
...it might be a good time to confirm how strong of a relationship the staff members have with your employees. We believe the foundation of our successful corporate fitness center partnerships is relationships. While it can take a while to build strong connections, once established, you should expect to hear periodically from your employees about how the fitness center staff are doing great work, helping to motivate them to do more than they would on their own, etc. If you're not getting those kinds of comments, your corporate fitness program might be in a rut and it's time to breathe some new life into what's possible for your employees' health through an exercise program.
***
Ready to dig a little deeper into what's possible for your corporate fitness center? You're in luck - we have a whole guide on the topic designed to walk you through three key opportunities to build a more successful program.