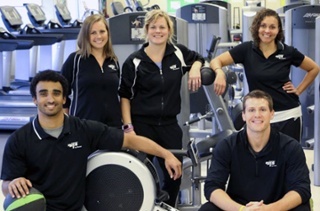 Maybe you've seen some of the chatter online about employers shifting their focus to providing a workplace where employees enjoy what they do and where they have an opportunity to feel like they're contributing to a bigger picture. As I've done more reading in this area, it dawned on me just how much this rings true for my work. At The National Institute for Fitness and Sport (NIFS), we hold this perspective to a high standard and it really is the core of who we are. For years, we've supported staff in their work/life balance and creating positive environments where employees can show up and not just contribute, but thrive in their career.
One of the ways this positive culture shows up is in our employee tenure figures. The service sector has notoriously high turnover, but when we took a closer look at our numbers, we calculated that the average tenure in our department was almost four and a half years, more than 50% higher than the industry average. Honestly, I wasn't super surprised at this because our standards at NIFS are unapologetically high. We have always been dedicated to providing service excellence to all of our clients; we're similarly committed to doing our very best work for each other.
In my 16 year career with NIFS managing corporate fitness facilities (and 11 as a supervisor), I can tell you that I've seen evidence of our thriving environment in the regular positive feedback from staff about how enjoyable it is to work for our organization. I've also experienced this enjoyment myself and I truly appreciate working for a company that is both an expert in corporate and senior living fitness, and in treating their employees with the same kindness and professionalism that we do our clients and members.
Our management team and mentors are highly experienced and extremely willing to lead the way. There's never been a moment where I felt like I didn't have the support that I needed from my supervisor or from our organization. In fact, the support that I have received is one of the reasons I have been on board for as long as I have. Because we're a nimble organization, it's easy to find answers and guidance quickly around every corner at NIFS, which means you have what you need so this in turn builds confidence in your quest to being the best you can be in your role. If respected leadership lands at the top of your career wish list, look no further.
We don't cut cookies at NIFS, we build sandcastles. Our programs, services, and forward thinking approach towards the future of corporate fitness management and active aging services are unique and individualized. Our ability to customize increases with each new client, and every new staff member we welcome. Because of that philosophy, our Corporate Fitness and Active Aging teams are regularly growing and we're always looking for the right fit to join our team. If you're inspired by what you just read, we invite you to consider our organization and stay connected with us so you can open the door to a new, exciting, fulfilling career path.