You've probably heard some fitness myths floating through the gym, the internet, or from friends and you may even believe some of these myths yourself! It's important to understand the facts from fiction to protect yourself from injury, and to make sure you are exercising properly. Let's dive into some popular fitness myths that we hear daily in the gym and explain why they are just that: myths!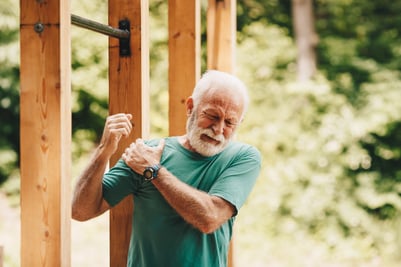 "No Pan, No Gain"
Pain and soreness should never be used to measure a good workout. Nor should you ever push through pain when exercising. Pain or soreness during exercise can either indicate delayed onset muscle soreness (DOMS), or an injury. If you ignore the pain you feel, repetitive movements can worsen the pain, resulting in a more serious issue over time. DOMS is normal, and usually lasts up to about 48 hours after exercise, and just means your body wasn't used to the movement you performed. However, give those muscles a chance to recover before exercising them again to make sure that is all it was. Remember, listen to your body, it's telling you something hurts for a reason.
"Spot Reducing Fat Exercises"
As a fitness professional, I have been asked several times what exercises a member can do to lose fat around the tummy, arms, backside, etc. Unfortunately, it is not possible to pinpoint certain areas of the body to lose fat. To lose fat, you need to burn more calories than you eat because this causes a calorie deficit. The body also does not burn fat only from the area you are working, because it uses energy from your body, leading to total body fat loss. Also, your body can be stubborn, and fat can be lost from different areas at different rates that you weren't expecting. But please don't let that discourage you! Know that the exercise is still beneficial and will increase strength and endurance in that area and sometimes give that part of the body a more "defined" appearance you are looking for!
"Lifting weights makes you bulky"
This saying could not be falser. Many think that heavy weights will make you bulky and light weights will make you lean. The type of weights you are lifting does not necessarily contribute to muscle growth, as most of the adaptations that make you stronger occur in your central nervous system. It is true that lifting weights will promote muscle hypotrophy leading to a size increase, but not "bulky" in appearance. In fact, to become the type of bulky you might be picturing, it takes a lot of time, hard work (and sometimes steroid use) to become "bulky". In fact, for females, hormones prevent excess muscle mass. Muscle tissue is a lean tissue, so when paired with a good diet, strength training can help build a lean physique. Lifting heavier weights can offer several health benefits in your bones, muscles, ligaments, and brain, to name a few.
"Carbs make you gain weight"
Recent health trends have led people to believe carbohydrates are horrible for your body and cause excessive weight gain. This has mostly started to rise because highly processed carbohydrates are high in calories and sugars, leading to fat gain if eaten in excess. Complex carbohydrates like fruit, whole grains, and veggies are a valuable source of fuel used by your body and your brain to keep you alive. If you were to cut out carbs completely this would lead to weight loss, but not a healthy long term weight loss. It would also cause extreme lethargy, headaches, dizziness, and low blood sugar among some more mild side effects. The takeaway? Limit processed carbs and keep the whole foods!
"Lactic acid causes muscle soreness"
Lactic acid or lactate causing muscle soreness has been a fitness myth floating around for decades. While this myth was debunked in the 80s, many people (including some fitness professionals) still believe it to this day. Lactate doesn't stick around in our muscles long enough after exercise to cause the soreness that we feel for the next day or two. Lactate clears out of our system about 30 to 60 minutes after exercise to be recycled into energy. The soreness we feel after exercise is the result of microtrauma (microscopic tears) in the muscle and connective tissue, leading to DOMS (mentioned above). There is a lot more science that goes into it, but this hits the basics.
Is there other information floating around the gym (or magazines) that you wonder has any truth to it? If you have access to a reputable source such a fitness professional, start there! Or, of course, the internet is full of answers, but you need to know that the website cites its findings and isn't the thoughts of one individual. Regardless, we are glad you have interest in learning more to improve the work you do for your health every day!