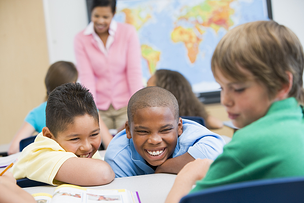 Let me begin by stating that this blog is written from my voice that (at least today) is equal parts parent and health promotion advocate. Our readers probably don't subscribe to this blog looking to commiserate over shared parenting experiences, but I suspect that we're not the only family dealing with the issue I describe below. I invite and encourage you to join into this conversation by sharing your stories and your solutions below.
It started a few months ago at school.
Our second grader came home from school a few months ago and shared that he had been teased at lunch by his peers. They were mocking him for having fresh cut red, yellow, orange, and green peppers in his lunch. At the time, I didn't think much about it. My son doesn't pack his lunch often, and I figured kids will be kids.
Recently however, while participating in the district-offered winter break care program, he came home one afternoon in a horrible mood. After some careful prodding, we learned that he had been taunted by "bigger kids" during lunchtime for (again) having fresh cut veggies as part of his lunch.
We spent a good bit of time with him that evening getting more information and helping him come up with some strategies that might help him feel like he had some control. Ultimately, he decided he was okay with fruit in his lunch, but that he'd forego lunch veggies and just double up at dinner.
What are we teaching our kids?
After we triaged through what was most important for our son, my husband and I started talking about the bigger picture in this situation. Right or wrong, I'm a less concerned about the general taunting and more concerned about the subject of the mocking. I realize that he is my first school-aged child, and perhaps I'm hopelessly naive. But I was shocked to learn that children would make fun of a peer over having a healthy lunch.
Then it hit me...eating healthy still isn't the norm.
Kids tease and taunt about anything that isn't "normal" or typical. The sad truth is that veggies for kids (or grown ups, for that matter) still isn't routine. Despite the easy-to-digest science, most of us don't get enough fruits and vegetables in our daily diet.
Having spent years in a corporate wellness environment for NIFS clients, I can speak with some confidence that culturally, we're still swimming upstream to make the healthiest choice the easiest choice for our workforce.
Despite some remaining significant gaps in the availability of healthy foods across the US, improvements have been, and continue to be made. School lunches have improved too under the Healthy, Hunger-Free Kids Act of 2010. Unfortunately, we have a long (oh, so very long) way to go when it comes to both teaching and providing our children with the tools they need to live well.
It starts at HOME.
Teaching your kids to be tolerant of differences, inquisitive instead of acusatory, and embracing of diversity (in ALL forms) is not easy. We grown ups have a lot to learn about these actions. But really - really, teaching your child to embrace a variety of foods, fascilating your child's exposure to new food experiences, and support their individual choices while maintaining nutritional standards and expectations should not be that hard.
If nothing else, teach your children the old adage, "You are what you eat" by practicing what you preach. Put a little color on your plate (and I don't mean taste the rainbow of skittles), and enlist the support of others. Let Wayne Brady rock it out for your kids!