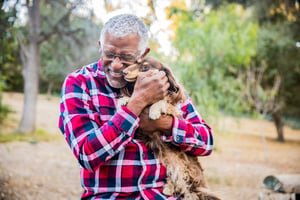 Many senior living communities across the country are starting to recommend bringing your furry friend from your current residence to your community residence. Pets provide a sense of purpose, calmness, companionship, and security for older adults. Check out this post from Aging in Place about how having a pet can improve the aging process.
So what are the best ways to include pets at your senior living community? There's no doubt that an include pets in day-to-day community life.having a pet companion not only improves quality of life for seniors, but also provides residents with opportunities to stay active and interact socially with others. Here are some ways that you can include your pet in day-to-day community life.
Outdoor Community Dog Park
Senior living communities have invested in making specific spaces for your furry pal to get regular exercise and be safe to roam in a fenced-in area. These common areas are great for residents to socialize and interact with their pets while feeling secure that their companion won't run off.
A few of our Active Aging sites have community dog parks and regularly host events and programs to ensure socialization and fun with pets. Tracy, a NIFS Active Aging Manager in Mystic, Connecticut, started a program once a week called YAP it UP. Residents meet at the community dog park and chat with others while exercising with their pets. Another great bonus to Tracy's program is that residents without pets are also are encouraged to join so that they can enjoy the company of both their peers and pets. This is one great example of the many benefits that pets can bring to your community.
Have an Annual Pet Day Event
What better way to get your pet involved than with an outdoor community dog day event? This would be a great way to show off your creativity and expressiveness. There are many ways that your community can host a dog day event.
Best in show: Host a fun, lighthearted dog show for community leaders to judge your furry friend.
Wiener dog races/pet races: A wiener dog race is a fun event that can include the entire community.
Pet grooming event/philanthropy: Have your community host a pet grooming/bathing event to raise money for a good cause. This also could be a great opportunity to contact a local veterinary clinic to come and provide vaccinations.
Therapy Pet Visits
Many of our NIFS senior living communities host therapy dog visits to their health center and assisted living residents regularly. The animals are intended to serve as companions and have gone through programs to ensure the safety of the residents and animal. If your community is unfamiliar with therapy dogs and training's near you, the AKC has information on how to train or find therapy animals for your next event.
The Crate Escape
Many residents enjoy having a walking trail for their outdoor adventures. It's a great way to get fresh air and enjoy a little sunshine. Why not make it more impactful and bring your pet? Dogs need social interaction and companionship just as much as people do. Bringing your furry friend on a group walk provides a sense of community. It also provides a sense of security that will get you back out with a group.
Pet + Yoga
Yoga is a very beneficial form of exercise. Yoga is known to reduce stress, increase flexibility, and help you focus on mindfulness. Make this journey even more fun by adding pets to the mix. Depending on your pet's obedience, size, and personality, yoga can be something that you both enjoy. Our Active Aging NIFS Manager in Lakewood, New Jersey, Rachel, recently hosted an event like this during Active Aging Week. The event was so successful that her community is going to start hosting it regularly.
All of these activities are safe, impactful ways to include pets in your community. Have you hosted or participated in a pet-friendly event recently? Comment below! We would love to hear about ways that pets are part of your community.