When it comes to stress, my belief is that you need a full tool kit of remedies for the different levels and types of stress that life tends to throw your way. Daily stresses or, "good stress" is defined as eustress. For me, this form of stress is fairly manageable with a routine that keeps my body grounded and focused, and allows me to burn off that extra energy with exercise. Eustress is short-term, it can cause your body to feel excited or energized, can serve as a motivational force to get tasks accomplished and is deemed as they type of stress people can "cope" with.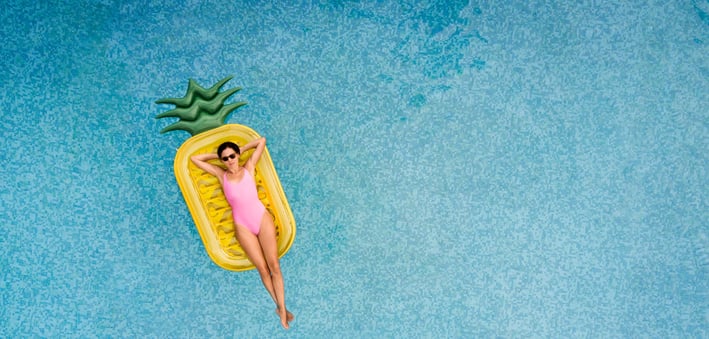 However, when life decides to start pulling back the bow, stress can get more difficult to manage. When the arrows start flying, that's when you need an arsenal of serious stress coping tools. This is the stress we all dread and is more challenging to cope with and manage. It's called distress; it causes anxiety, can lead to physical illnesses or pain, and it can cause a decrease in performance.
[Read More: How Stress Affects the Body and Your Health]
It can make you feel pretty crummy if it sticks around a while. Tension can build from stress so watch for signs of this in your neck, upper and lower back, temples, and head. For me, these pains are red flags that stress is starting to cross over into the distress area. Without immediate attention you can become more susceptible to developing a cold, suffering headaches, or sleeping poorly. This is an area you want to stay away from so don't ignore these symptoms!
You want to be armed with different tactics depending on the stress, so let's discuss some options to help you build your own stress reliving tool box. Just as perception of what leads to positive and negative stress varies from person to person, stress management techniques are also individual. I need physical activity to help my mind decompress at the end of the day as compared to some who need to take a hot bath before bed. The key to winning the battle against stress is to find what works for you. Below are some of my tools for keeping different levels of stress at bay and how they can help your mind, body and soul get through stressful situations.
Exercise
This can happen in many forms. My daily go to is something that increases the heart-rate and challenges the body. It offers my mind a chance to wander, to think about non-work related items, and to day dream. When I really need to pound it out, I use workouts to push my physical limits. At other times, if I have a lot of head and neck tension from stress, I don't always choose heart-thumping cardio exercise; sometimes a Yoga class is the right choice to ground my thoughts and body.
Research has proven that exercise packs a punch when trying to reduce stress. This natural medicine can put stress in its place by increasing endorphins which help improve your mood. Exercise can also take your mind off of the daily pressures just by allowing you to divert your focus elsewhere. Other benefits of exercising can include lowering blood pressure, reducing anxiety and depression and improved sleep.
Mind, Body, Connection
There are times when your mind will just take over and it causes a disconnect from your body. Call it what you will, up in your head, the ego, losing your mind, etc. Whatever you refer to it as, the risk is that you've become separated from what your body is telling you. We've all seen examples of this. Think of the guy on his cell phone that starts to cross the street without realizing there are cars coming right at him. Or maybe you've had the experience of driving home from work and suddenly finding yourself at your driveway without realizing how you got there. You show up to work with two different shoes or mismatched socks, or you drop the kids off at swimming when they should be at violin practice. These are signs that your mind is probably in overdrive dealing with the stressful factors of life. Your coping abilities are being pushed to the limits.
To avoid these scenarios, meditation is a great way to clear your mind. Studies have shown that even short bouts of meditation and shutting your brain off (or even trying) can have significant impacts on stress. The benefits of meditation surpass just stress relief and tip-toe into physical and mental benefits. If you're not in to meditation or Yoga, check out these alternatives for mental relaxation and stress relief.
Take Comfort
A little self-love goes a long way. Consider a long bath with a splash of lavender oil and a good book! Old-fashioned rest can be just ask effective for relieving stress for many people; put your phone down and your feet up with a bowl of popcorn and your favorite TV series or a movie. Or, maybe taking your time in the kitchen and cooking your favorite dinner brings you comfort. Sometimes a complete wind down (as opposed to a workout) is the best choice to manage your stress. Think about what will take your mind off of the daily pressures and bring joy back into your life. Literally, slowing down to smell the roses can put stress into perspective and signal to your body that everything really is going to be okay. We have other tips for stress relief so we hope you'll click below to learn more.