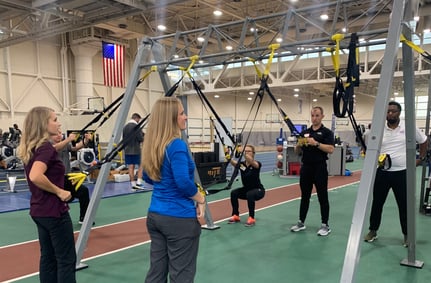 Variety is the spice of life, and that's what we'll have in town this week at our annual managers' meeting. Each year we fly our management team to our headquarters in Indianapolis for professional development, collaboration, and networking. Our passionate team arrives from across the U.S. from different client settings and with varying personal interests and backgrounds. Their one commonality is their passion for serving their members, and we love the dialogue and collaboration that unfold when everyone gets together.
3 Benefits of Collaboration for Fitness Staff
This connection and access to a wealth of resources is one of the strongest value elements we bring to our clients. They receive our onsite fitness staff managing their program and building relationships with members, plus the expertise of a national organization doing this work across the U.S. How does this routine collaboration truly elevate a fitness program?
They don't feel like they are on an island. As a fitness professional in a corporate or senior living setting, it can feel like you are isolated without resources or like-minded individuals who have similar goals and job duties. NIFS has routine meetings, workshops, and events like our annual meeting in Indianapolis to bring new ideas, resources, and inspiration to your fitness program, keeping things fresh and exciting for your members as well as your fitness staff.
They can benefit from vetted programs and promotions. Sometimes it can be hard to execute a vision for a program or determine how to best reach a group of individuals because you aren't quite sure how to get started or you are concerned about unanticipated road bumps along the way. NIFS managers regularly connect on a variety of platforms to discuss new ideas and ask for feedback among their peers. This provides members at our client sites with more finely tuned and professional programming.
They are connected to the latest trends. Fitness is a trendy industry, whether you are working with children, the general population, or seniors. By having staff from the four corners of the U.S. and a little bit of everywhere in between, this broad reach keeps our team connected to not only what is trending but how to educate and market new programming to members in our client settings.
3 Tips to Garner Collaboration for Fitness Staff
So what do you do if you aren't connected to an organization like NIFS to help keep your staff connected?
Professional development: Provide funding to send your staff to workshops to help them stay plugged into the industry. Without an organizational connection they might still miss opportunities to learn how others are effectively implementing that type of programming in your setting, but it can certainly lead to some fresh ideas and keep staff inspired.
Create a network: Do you have neighboring communities or businesses with staffed fitness centers with which you could encourage collaboration? Perhaps there's a network of senior living communities in your town where the fitness staff could get together once a quarter for idea sharing. Perhaps your group fitness instructors, trainers, and fitness manager at your corporate site could meet once a quarter to discuss what they are hearing from members, share ideas to attract new participants, etc. Your network can be in-house with existing personnel or branching out, but creating space for discussion among like-minded individuals can be advantageous.
Identify a strong contact: Whether or not someone at your setting is in-tune with the fitness industry, make sure your fitness staff has someone who has a good listening ear and an understanding of your fitness program's goals. Fitness staff can feel less isolated in their decision-making when they have a partner at the site level who understands the work they are doing, and when they have someone in their corner for brainstorming or discussing member needs.
This collaboration is where the magic happens in taking a fitness program from good to great!