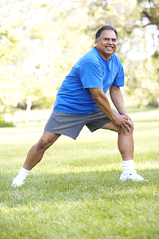 Imagine you're back in high school gym class. You walk into the gymnasium and what's the first thing you do after roll call? That's right; you warm up with some stretching before getting bombarded with dodge balls. Flash forward to present-day fitness centers, or more accurately, fitness centers in the past 10 years. The current trend is to warm up with some light cardio before dominating your workout and finally finishing up with some stretching to cool down. Sounds much safer, right? Wrong!
There has been new statistical data to support the case that stretching is, in fact, a complete waste of time. The biggest benefit of stretching (so people say) is to prevent injury. How can stretching possibly prevent injury? Simply put, stretching lengthens the muscle. By lengthening the muscle, this only elongates and spreads out the muscle fibers. And by spreading out the muscle fibers, your muscles become weaker and more susceptible to injury. Which is harder to break: 10 individual toothpicks or 10 toothpicks stuck together in a pack? The 10 individual toothpicks would easily break while the pack of 10 toothpicks would work with each other to protect the pack as a whole and become more resilient.
It's a common and well-known aspect of resistance training. Stay tight. Stay compact. If you are performing the bench press, you do not want your arms and shoulders spread out. That will only lead to a dislocated shoulder. If you stay compact, engaging your chest and core before your shoulders and arms, you will be able to lift more and lift safer. The same thing can be said for running. The farther you reach out your stride, the more that forefoot (the front foot coming down toward the pavement) will push you back upon landing.
In a recent study, 1,543 serious runners were able to link stretching to serious muscle problems. Dr. David Lally found that 47% of male runners who stretched regularly over an extended period of time became injured at some point during the study, while only 33% of male runners who did not stretch regularly became injured.
This has to end! We don't stretch to loosen up before we warm up anymore. We don't lock our knees on squats anymore. We don't arch our backs for additional strength anymore. It's time to end stretching altogether. Simply use a wide range of motion during resistance exercises to improve flexibility in the muscles and to prevent injury.
And to those who believe a word of what you just read, Happy April Fool's Day! Now head to your Corporate Fitness Gym or Community Fitness Center and get a good stretch session in to start your week right!