Do you find the typical New Year's resolutions depressing? Start off 2015 with a new type of resolution. Instead of eliminating the things in your life that you love, try developing a list of new adventures or activities to experience this year. Brainstorm a variety of activities, events, recipes, or exercises that you find interesting or worthwhile and stick to it.
Take the time this year to really try something new for yourself and no one else. With each new experience, keep in mind the purpose and outcome you hope to achieve. Be confident and open-minded, and aware of your response in each situation. Keep track of your experiences, and who knows: something new this year may become part of your daily routine.
8 New Things to Try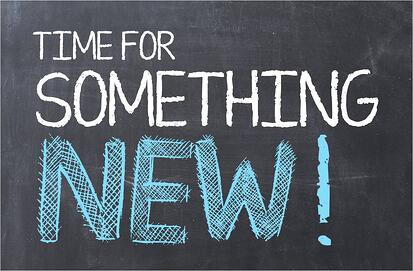 Here are some ideas to consider for the New Year:
Attend a new group fitness class.
Participate in a partner training session with a friend.
Try a new restaurant.
Walk a different route than your everyday commute to the office.
Prepare a recipe using fresh ingredients.
Attempt a new hobby, such as running, swimming, sewing, or biking.
Prepare a budget for the new year.
Learn a new sport.
By diving in and trying new things, you are taking it upon yourself to develop a more self-centered lifestyle. So many times we rely on others' descriptions or evaluations of something instead of trying it for ourselves. With a new type of resolution, one that helps reinforce a healthy lifestyle, you can move forward during the New Year without regrets. Focusing on different activities and facing different challenges than what you may be used to will add variety to your days.
Tips for Achieving Your Goals
Remember these helpful tips when working toward your goals:
Try to develop simple, one-step tasks and take pride in each item you mark off your list in 2015. Choose tasks that are positive and promote overall health, rather than creating restrictive goals or limitations. Keep a running tally of your accomplishments and hold yourself accountable for each item on the list. Feel free to continue adding new events throughout the year based on successful or satisfying experiences.
Whether you are pledging to be healthier, happier, skinnier, less stressed, or more active, these tips can help. Don't think about each task for hours on end, "just do it!" and move on (here are tips for finding motivation when you need it). If it is something you enjoy, evaluate it and go back for more. The main goal of this practice is to find new and fun activities that bring a sense of satisfaction to your life. You never know if you will like something until you try. The power that comes from accomplishing a goal only helps to reinforce one's ability to keep moving forward. Keep that in mind, and work toward a healthier, happier future this New Year!