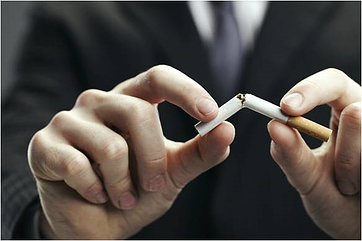 By now you've no doubt heard the announcement that CVS plans to remove all tobacco products from their shelves by October 1, 2014. It's a bold move, even if experts think that financially it's not risky for the organization. They drew a proverbial line in the sand and declared that they would be a business about better health for its customers. When they measured the financial gain from selling tobacco products to customers against their brand positioning to be a leader in health care, there was really only one decision.
There has been some debate about why CVS stopped at tobacco and why they aren't proclaiming to pull candy bars or alcohol off their shelves. Tobacco remains the one legal, non-prescriptive drug in the marketplace that, when used as intended, causes harm to the body. Candy bars (and put all other non-nutritious foods in that category) and alcohol do not work the same way (when used as directed).
Despite the limited financial risk for CVS Caremark - they have indeed made a bold move, and employers who are carefully designing and delivering employee wellness services could learn a thing or two about this corporate coup.
CVS didn't wait around for perfection. The debate on other less-than-healthy items in it's stores will continue. And in fact, CVS reportedly is still invested in tobacco companies through the organization's mutual funds offered to employees. So no, they didn't nail it 100% on this one. But we can't always let perfection be the enemy of good. What employee wellness initiative are you waiting to launch until it is perfectly primed and elegantly unflawed?
CVS decided who they were. And it became clear that selling tobacco didn't match up to that vision. As stated by their CEO, "...the sale of tobacco products is inconsistent with our purpose."

As an organiztion, how are you giving out conflicting messages to your employees? Wellness should be about doing something FOR your employees, not TO them. If you say you want to help them improve their health, ask yourself how the annual HRA and fingersticking accomplishes that.

CVS was bold about telling the world what they were doing. Sure, you could claim it was a PR stunt. And maybe it was. But for whatever PR goodness (or nightmares) the announcement created, it has also raised the debate (again) about tobacco. What debates do you need to be having, publicly, with your workforce about what they need to engage in better living? What issues are you hiding from, or living with as status quo because no one at your organization is bold enough to address them head on? Are we talking about how a work environment contributes to obesity? Are we challenging conventional wisdom on how employees can flex their time to engage in mid-day workouts, meditation, or naps?
We can't keep doing what we've always done in corporate wellness and expect different results. This decision by CVS to stop selling tobacco is a big deal. What big deal health issues is your organization dealing with (hiding from?) that could benefit from real dialog and a progressive CVS-style approach?