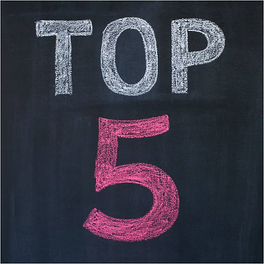 You're busy, we publish at least a couple blogs a week, and there's a good chance ours isn't the only blog you read. I get it – it's tough to stay on top of all of that reading. So I thought I'd help you get your "read more" resolution kicked off on the right foot by compiling a "best of" list for NIFS Corporate Fitness and Active Aging blog in 2013.
Check out the list below and let us know if we missed one of your favs.
Most Viewed Blog: Employee Health and Nutrition: The Pros and Cons of Organic Foods
We must have hit a hot topic on this one. It's a quick read covering basic the pros and cons of helping to improve your employee's health by offering organic food options at work.
Most Controversial Blog: Corporate Wellness: Is Obesity Really a Disease
In 2013, the American Medical Association declared obesity a disease. We couldn't help ourselves – we had to write about their declaration. It has significant, as yet not dealt with, implications. This blog series generated a lot of buzz in the social sphere.
Most Practical/Useful Blog: 3 Must-Dos During a Senior Living Fitness Center Renovation
This two part blog was written with much love and direct experience. Melissa, one of NIFS managers who just lived through a fitness center renovation at the community where she works, puts forward some very practical advice on how to help both your fitness staff and your residents survive the dreaded change.
Best Vlog Series: Free Workout Fridays
In May, 2013, we launched a weekly Free Workout Friday series. It's been a great outlet for our creative staff to share a variety of simple workouts you can do with limited (or no) equipment. The most popular video we posted was on how to use a circular resistance band for an effective workout. Check out NIFS Corporate Fitness Youtube channel for more Free Workout Friday options.
Best "Tell It Like It Is" Blog: Top Five Reasons Your Residents Don't Engage in Wellness
I'm nothing if not direct. In this blog, I outline the five most common reasons I see that residents don't participate in wellness in your community. If wellness has floundered in your organization and if you can't seem to get staff or resident buy in, you might want to review these reasons to see if any of them ring true.
Don't miss out in 2014, subscribe to our blog and receive our postings straight to your inbox!