This topic may not make you drool like the first one we did on workplace food, but it is something that we know needs to be addressed. MOVING. It's just one of those things we cannot get around in the corporate world, and no matter what you do in a typical office setting, employees are likely to be performing their job responsibilities on the phone or in front of a computer. Sitting down. All day long. So how can we make some improvements in this area without mandating walks every few hours? Below are some ideas to help employees move more during their day and to ensure they are encouraged and given the opportunity to move while attending meetings and maneuvering throughout their day.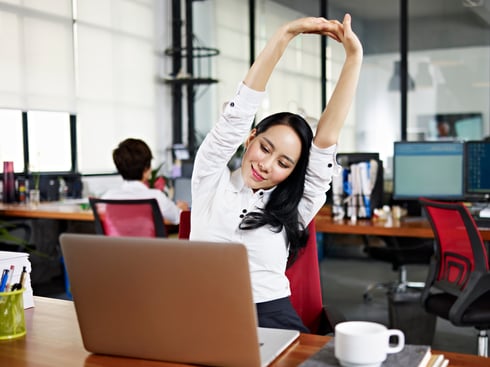 Stretch your meetings – We've all either presented to an audience who's drifting off (or we've been the drifters). One way to prevent this is to take short breaks during the meeting. Have your entire audience stand up, and provide some quick stretches. If you don't feel comfortable leading the stretches, add a few slides to your presentation that will pop up as a reminder to take a break during your meeting. This will get their blood moving, out of their seats, and will help them remain focused on what you have to say. If you happen to have an onsite fitness center with staff, this is a great time to have them break the monotony with a quick stretch break for you! The same thing can be done if you manage a department of people. Have them take a quick break from calls and looking at their computer screens to stretch their necks, hands, arms and upper back. These areas can take a beating with lack of movement, and your employees will appreciate the time you've taken to invest in their well-being with a simple stretch break.
[Read More: 5 tips to help your employees move more]
Stand up for yourself – Literally. I mean stand up for yourself and work while you're at it! The harmful effects of sitting have been widely published, and while a standing workstation won't fix everything, it's an option to help employees move more. This is an investment so consider purchasing only a few where employees can have access to it for 15-30 minutes during the day. How else can you encourage your employees to get more movement throughout the day? Here are several suggestions. Rather than giving every desk a trash can, have a community trash area so employees have to get up to throw items away. Store your lunch in a refrigerator that's down the hall or on a different floor. Use the stairs as much as possible, even if it is just going down, or have a 3 flight rule. If you aren't going more than 3 flights, take the stairs, always! Encourage walking breaks or group walks. I also love the idea of an adjustable desk. This is another investment but well worth it so you can combine sitting and standing during the work day.
Sound the alarm – We're all guilty of getting so involved in a task that we lose track of time and the next thing you know, you haven't moved from your seat for hours. Some companies are using their intercom system to remind employees to get out of their seats for a moment. This can be a quick stretch, walk down the hall, or water break. Whatever it is, the reminder is set so we don't get lost in time and forget to move our bodies. This can also be accomplished by setting a reoccurring Outlook reminder, or if you're managing a department, you can pre-set several emails per day to spark your team to move. Dare I suggest that department leads also consider more interaction with their employees with a vocal prompt to stand up and move a bit during certain times of the day. Now we're getting somewhere!
I'll let these ideas jog through your mind until next week when I offer the last part in this series. I will say it happens to be more slow paced. Can we afford a slow pace in today's corporate world? I believe the answer is yes.