Welcome to February, the month when most of us are feeling like we are moving oh so slow through the remainder of the winter months. We have come off the high of gift giving and receiving, enjoying time with family and friends, and even the excitement of the New Year. We are still reflecting on the past year or even the holidays, wishing we could bottle up that time we had with family and friends.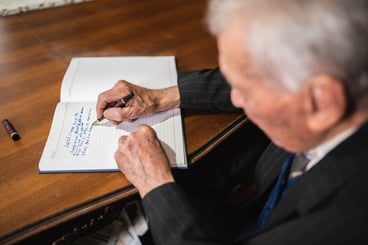 When it comes to programming options in senior living, NIFS understands that communities strive to create a memorable experience for residents and their families all year long, which is why we are excited to bring clients the NIFS Legacy program. This is a simple one, but with a memorable result. We are inviting each resident to participate by handwriting answers to simple life questions and to have their photo taken to create a nostalgic piece that will then be transformed into a keepsake for the resident to share with their family.
Building Connections
While NIFS staff are known for providing traditional fitness programming, we also find it engaging to offer opportunities like this program. Interacting with residents each day in our social atmosphere allows us to build relationships and connections that go beyond fitness alone. We often have the privilege of getting to know the residents' family members through holiday visits, summer vacations, or the weekly check-in. So being a part of a project that will provide a memorable keepsake is icing on the cake for us, knowing how much their son, daughter, niece, or nephew will enjoy it!
Well-Being is More Than Healthy Eating and Exercise
We've written before how well-being extends beyond exercising and eating right. With the NIFS Legacy program, residents and staff collaborate to discuss and capture memories and turn them into a special memento that residents can share with their family and friends. Not only does this opportunity foster a connection, but it also helps fulfill a more well-rounded wellness program at the communities we serve. It hits home on the holistic approach to supporting resident well-being by offering an outlet for emotional and spiritual wellness, acknowledging the meaning and purpose of their life and creating new memories with their loved ones.
The meaning of legacy is to "put a stamp on the future," and we know that our residents have contributed a great amount of time, knowledge, and love to such a thoughtful keepsake. By sharing their thoughts, feelings, and experiences, they will be contributing to the future.
A Partnership Between NIFS and Your Senior Living Community
NIFS partners with premier senior living providers across the US to bring their residents best-in-class fitness and wellness programming. The NIFS Legacy program is a great example of how our qualified fitness professionals have the skills and resources to artfully marry creative programming with relationship building to offer programs of intention and purpose for residents. Click here to learn more about how the NIFS team integrates with communities to help you achieve your wellness goals.
We are excited to invite residents to create their own legacy with handwritten answers to simple life questions alongside a photo that will inspire their family and peers. Throughout the month of February, residents will have an opportunity to visit the community wellness center to create this wonderful keepsake.
This blog was written by Lindsay Knox, Assistant Director Active Aging Services, National Institute for Fitness and Sport.