Aging is a natural and guaranteed process. You can't stop getting older. This doesn't mean you have to concede to the idea that getting older means being less than what you were in younger decades of life. Being regularly active is an important part of aging well, and yet, working in the active aging fitness industry, I have seen many older adults have come up with a plethora of excuses to not exercise. Here are some common myths that older adults use to avoid exercise and my tips for how to address them.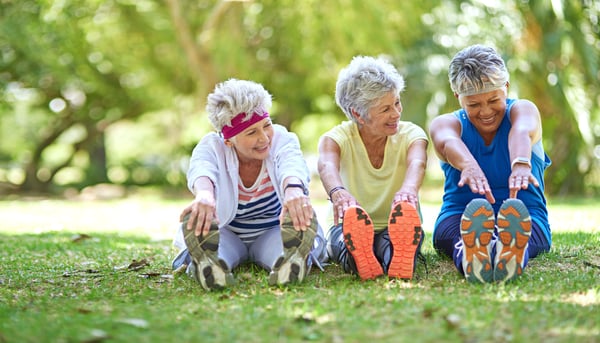 I'm too old.
I think we can agree that this is very outdated; the research tells us you're never too old to move your body. There have been many studies showing that staying physically active all of your life positively outweighs aging while sitting still. But, I think there is a hidden meaning in "I'm too old." i think it's more about change than it is about age. People like to stick to their routines, older adults are no exception, and what folks often mean when they say, "I'm too old" is that exercise is out of their comfort zone. It's a blanket answer to get the fitness monkey off their back.
In reality, they are scared to change and may need a boost from you to help get them thinking more positively. One of the ways that I help the residents who use this saying as their mantra is by engaging them in a non-physical meet and greet activity. I introduce them to other active aging residents who enjoy classes, recreational offerings, and the fitness center. The idea is not to talk to them the whole time about why they should join the fitness center and all of the great benefits, because, deep down, they already know. The idea is to get them around a group of people that they can turn to and make friends with. They are more likely to commit if they have a buddy.
[Read our Senior Fitness blog: What's the Point of Exercising]
I have an injury.
Injuries are not to be taken lightly and as a fitness professional, I definitely have a medical release secured prior to engaging a resident in exercise. If you receive an "all clear" from the doc, an older adult client who is still leaning on the injury excuse may be in fact fearful that their injury is going to get worse or come back if they embark on regular exercise. But if you present yourself as an educated professional (because you've done your research), you can coach the individual in safe and effective exercises. Despite your efforts, not everyone will get on board, but the more they trust you in your profession, the more likely you are to have them participate and start leading a healthier lifestyle.
I like to keep to myself.
This can be a difficult one. Introverts, especially older introverts, may need a little extra push to get moving. The best way I have found to engage with these individuals is by finding out what they enjoy doing. When speaking to them one-on-one, I relate to their interests and try to form a bond. Slowly, they start to come around. These residents normally enjoy one-on-one appointments or scheduled times when not too many people are in the fitness center.
Knowing your population's needs is half the battle. Establishing a positive connection with your audience is how you are going to get them to be more active and engaged. Remember, it can be really scary to start something new. Being understanding and taking the time to help them find their niche is one of the most important things you can do as a fitness professional.