We have all been there, you spend hours and hours program planning putting together what you KNOW is a terrific program. You included all the buzz words that get folks jazzed up and ready to participate like: BALANCE-BOOSTING, ULTRA- EFFECTIVE, FAT-BURNING, MUSCLE-BUILDING, TONING AND STRENGTHING, EXCITING NEW CLASS. You plaster signs all over the place, put notices in mailboxes and do just about everything short of hiring a skywriter to fly over and advertise for you. The first day of your new class dawns, and you are filled with enthusiasm. You are thinking that you really knocked this one out of the park, and that the room will be filled with eager new participants and people ready to "feel the burn" so to speak.
As you are setting up a sinking feeling sets in, a few people start to trickle in and you look up at the clock. One minute till show time, so you figure, I might as well wait a minute, introduce myself to everyone and make sure they are set and ready to go. A few extra minutes go by and you end up with a grand total of five participants. Five. For all that effort and work, you prepared for weeks prior to the new program, and this is the turn out you get. Plaster a smile on your face and show just as much enthusiasm for the five brave souls who showed up as you would if 40 (who you hoped might show up) people were there and were just as excited as you are.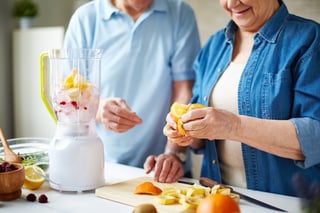 As the class wraps up, you ask yourself: Self, where did I go wrong? Were my advertisements boring? Should I have hired a barbershop quartet to sing a jingle for me? Would it have been a good idea to pull the fire alarm to see if people would just show up? We have all been there, and are not immune to the crash and burn of a new program. Sometimes no amount of advertising can give a program the boost it needs to succeed. But I can tell you that one method has never failed me, ever. And that method is… FOOD. You provide any kind of food to the members and they will show up, in droves.
So what kind of options do you have? Depending on your clientele you can range from mild to WILD… Think of theme-ing the heck out of it. Make it jive with your program, so what about Hula Lessons and Tropical Smoothies with Pineapple and Coconut Water? Or how about Tai Chi with a Chinese tea tasting following (oolong, black tea, green tea, etc). Get them up and moving in the morning with breakfast. Our favorite is our D.I.Y Oatmeal Bar. It is cheap, relatively easy and really draws a crowd. Set out a pot of oatmeal, and then a variety of fixin's, from raisins and craisins to brown sugar, sliced almonds, and maple syrup, you can't go wrong.
But really, any old food will do. The next time you launch a new program, check the web for fun food ideas and see what you can come up with!