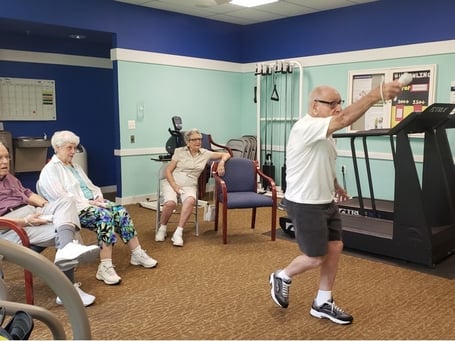 This summer, teams all around the country ironed their bowling shirts, warmed up their throwing arms, and double-checked their TV connections in preparation for the first-ever 10-week session of the NIFS Wii Bowling League.
What started as a little friendly banter between colleagues quickly became a full-blown tournament as NIFS managers from various fitness centers started exploring new opportunities for some variety in recreation programming. After a few group emails had been sent, we finally came up with the idea to host a virtual bowling tournament.
Residents formed teams of two to four people. Each week, teams played their round of bowling and NIFS fitness center managers sent scores in to be tallied. Each Monday, updated standings and a new schedule were sent out to all participating sites. This went on during seven weeks of regular play, and then the single-elimination playoffs began. After three weeks of playoffs, only one team was left standing: The PinStrikers from Lakewood, NJ are this summer's Wii Bowling Champions!
Thinking of hosting your own Wii Bowling tournament? Here are a few tips to make it successful:
Make it accessible to everyone.
Nearly everyone can learn how to play Wii Bowling. That's one of the best things about it! Just practice patience when teaching new people and everything will go well. You can even play while seated if balance is a concern.
Be sure the rules are clearly communicated.
Avoid frustration from all parties and be sure you are clear about the rules you'll play by. For our tournament, we had a schedule and then the standings were set according to win/loss record rather than by scores. It made the tournament aspect much more interesting because there were no clear front-runners or favorites.
Make it fun!
I hope this goes without saying, but fun should be the first priority here. Be sure everyone is clear that it's just a game and the opportunity is open to everyone!
Have you ever hosted a virtual tournament between teams of people in different communities? NIFS can help you evaluate your program and improve offerings for your residents with NIFS Consulting, click below for more information.