We're fitness people, so you might think our holiday traditions are packed full of fun runs and other healthy traditions. Do we avoid grilling due to the cancer risks associated with charring meat? Maybe we pass on the ribs, corn on the cob smothered in butter and potato salad? If you answered yes to these questions, you guessed wrong. We engage in the delightful indulgence of all the traditional staples, whether they are calorie laden or not. Some do shoot for moderation and head towards healthier choices but most seem to just enjoy all the offerings of the day regardless of the calorie count.
Do we actually still get a workout in on the 4th of July? Well, this is a little different. It may not be the standard workout but many of our staff enjoy the day by engaging in activities with family and friends.
We Like Sweet Treats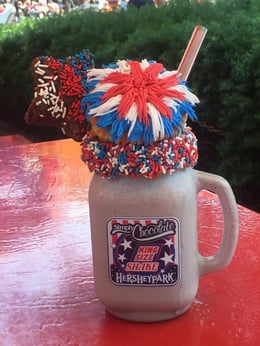 Corey in Pennsylvania indulges in a mountainous heap of sugar and dairy called the Star Spangled King Sized; Cookies and Cream Milk Shake, topped with a star shaped brownie and pop rock filled cupcake.
Bethany's choice each year is a simple trifle layered with delicious berries, instant vanilla pudding and whipped topping.
Keith in Indiana has a deep seeded taste for watermelon, (see what I did there?) so anything with that fruit is up his alley. Check out the Watermelon Salsa below that he'll be making this year. Looks pretty tasty to me!

3 cups chopped watermelon

2 jalapenos finely chopped – seeds removed (use one if you like it more mild)

3-4 tablespoons chopped onion

Add a splash of lime juice, serve with your favorite corn chips.
We Go To Cool Places
Bethany had a once in a lifetime chance to see the 4th of July fireworks in Washington DC years ago that still ranks as her favorite fireworks display of all time.
Kara heads to Tennessee with her family to enjoy long days on the lake that close with an eagerness to do it all over again the next day.
Activity Is Usually Included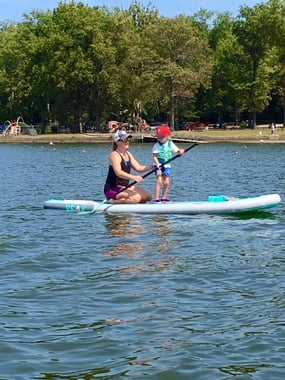 Lisa in Indiana has a tradition of starting the day at the lake in South Haven, Michigan, taking an easy jog with her dad to enjoy the cool breeze off the lake.
Christy keeps it simple by enjoying a simple ride to her local park on the 4th of July.
Dan in Indiana also mixes activity into his day with his family such as volleyball, lawn games, and wake boarding.
Joy makes her way across the lake with her son for some paddle boarding and then back to the campsite for the evening.
Reggie in Georgia goes all out and participates in the 10K Peachtree Road Race every year. (Way to outdo the rest of us Reggie.)
We Do Tradition
Lindsey is ready to run with the baton and take on the family party at her house this year after 20 years of it being hosted at her parents' house. There they will celebrate with up to 50 people by enjoying a fish fry, badminton, croquet and corn-hole. She's get our hostess with the mostest award.
Cathy's brother-in-law in Florida is on the local fireworks crew so their family gets an up close experience every year.
Plenty of our staff enjoy the traditional parade as well. I think we all love to see the marching bands, festively decorated floats, horses and most of all our military marching with pride.
My daughter and I place small flags on the headstones of those who served in our military and then go to any fireworks show in Denver and spend time with friends and family.
On behalf of the NIFS organization and our staff, we salute our men and women who serve our country and give us the opportunity to enjoy our daily freedoms. We offer our most sincere THANK YOU and are extremely grateful for your service.