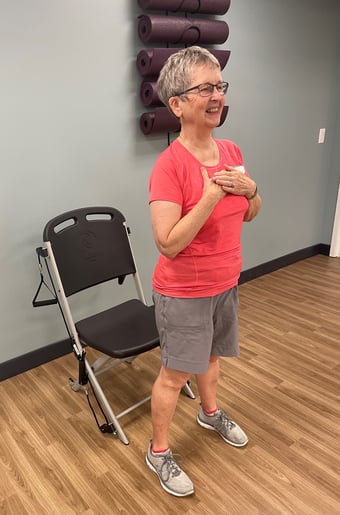 This summer, eight different NIFS fitness managers lead their residents through the Sit-to-Stand Challenge. Residents were asked to set a goal each day and complete a certain number of sit-to-stand exercises. They could group them all together or break them up throughout the day. The program was received with much enthusiasm as residents completed an average of 367 sit-to-stands per person during the month!
So, why build a program based all around one exercise? For one, it gives everyone an attainable goal. Someone might say no to something where they are asked to do 10 exercises at a time even if it's just three days a week, but everyone has time to just do one exercise per day, right? But why the sit-to-stand? Check out these benefits:
Maintain Independence
The seemingly simple movement of getting up out of a chair is something many of us take for granted. Have you ever counted how many times you stand up throughout the day? My guess is that it's a lot. Giving older adults the continued confidence that they can get out of a chair with no help is huge for maintaining independence and comfortable living.
Fall Prevention
When older adults are looking to maintain independence, their main concern is often fall prevention. Many times when people thing about fall prevention, they think of balance-specific exercises like a single-leg balance or a tandem walk. What's sometimes missed is the strength and coordination aspect of balance training. The sit-to-stand is a great lower-body exercise because it incorporates most of the big muscle groups in the legs and hips. Strengthening those muscles helps maintain stability and therefore prevents falls.
"Prehab" and Injury Prevention
Another major benefit of strengthening leg muscles is the support those muscles then give to joints in the hips, knees, and ankles. If someone is thinking about a knee or hip replacement, one of the things that a surgeon might suggest is to do some "prehab" or basically to strengthen the area around the joint before surgery so that recover will be easier and rehab will be more familiar. Think of it as giving yourself a head start on recovery. Who doesn't want that?
Just about every piece of feedback on the Sit-to-Stand Challenge sent by participants was about how much stronger they feel after just one month and about how they want to continue doing the sit-to-stands in their normal exercise routine.
Check out what our participants are saying about the impact this simple challenge had on their strength and their confidence:
"About one quarter of the way through the challenge, I found it so easy to get up out of a chair. I was amazed at how easy it was getting up. I will be keeping it up from now on, but with 8-10 per day rather than 40 per day. Good program!" –Virsile, Chelsea, MI
"LOVED the sit-to-stand challenge along with all the other motivational activities." –Jennie, Palm City, FL
"Probably many of us hadn't realized how much more sitting we were doing during COVID quarantine. I can tell I am stronger all over, not just lower body, from the continuous reminders to stay active and fit." -Nancy, Indianapolis, IN
If you could choose one exercise to focus on perfecting over the course of a month, what would it be?