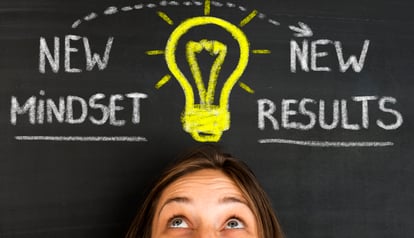 Having been an athlete my entire life, I learned at a very young age that the mindset you bring to a workout is just as important as the workout itself. It doesn't matter if you have a great workout plan or a great trainer/coach, if you go into a training session with the wrong mindset you will be set up for failure.
Get a Positive Mindset
I always take multiple steps to bring a positive mindset to my training sessions. Whether it's loading up an inspiring playlist (a must for a great workout), reading a motivational story, or simply taking the time to appreciate the positives in my life, I use these tools to set myself up for an incredible workout. Find what gets you into a good mood, lock it in, and carry that with you each day to the gym. This small preparation makes a world of difference.
Focus!
Now that you are in the gym and feeling the good vibes, you are all set for a good session. The only thing left to do now is focus on the task at hand and maximize your training session. Dwayne "The Rock" Johnson yelled it best: FOCUS! And boy, does it help (be sure to YouTube his "focus" gym videos. Thank me later).
It is easy to set yourself on autopilot as you go through a workout or group fitness class, but I highly recommend that you don't! Feel each and every rep and set. Feel what your intensity is doing to your body. Notice the subtle (and sometimes not-so-subtle) signals that your body sends you during a workout. Use this information to make better-informed decisions on how, when, and where you train.
Here is my personal checklist of focal points for each and every workout. Think about these things during your next training session and you will be sure to get an awesome workout you can be proud of.
Difficulty: Find yourself comfortably uncomfortable. Pushing your body outside of your comfort zone promotes better fitness levels. Be sure to keep your intensity high enough to get a good workout, but not so high that you fizzle out at the end. I like to keep my workouts at a 7–8 out of 10 for the majority of my workout to be sure I am maximizing my time in the gym.
Breathing: This one is very important. On each rep I make it a point to focus on my breathing: exhaling on my concentric phase (shortening of the muscle) and inhaling on each eccentric phase (muscle lengthens). Controlling your breathing will lead to much more clarity during exercise and help you maintain a healthy heart rate and intensity. It also helps with form.
Music, not my phone!: Be sure to set your playlist before hitting the gym. We spend enough time on our phones as it is. Set it and forget it so you can focus on the tunes and not your notifications.
Form: To maximize your workout and prevent injury, form must always be a main focal point. I always like to look at an exercise as having a "Point A" and a "Point B." Focus on getting from A to B as efficiently as possible, while being strong and stable from points A and B.
Goals: Focus on what your goals are. Between sets while you are resting and jamming out, remember why you are in the gym in the first place. Appreciate the steps you are taking to reach your goals and continue to chip away at accomplishing them.
Be positive, stay focused, and be your best self!
Interested in offering onsite group fitness for your employees? Check out our current offering for onsite group fitness for employees. Let us bring the workout to you!