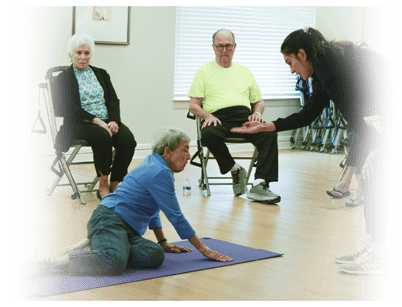 Fall prevention programs and services have been a cornerstone of NIFS programming for our senior living clients across the US with our signature Balance Redefined program. Whether joining our agility workshop to condition for the next pickleball tourney or bridging into a balance class after being discharged from therapy, residents of all abilities should have access to fall prevention programs that help them stay dialed into their life's passions.
Off the heels of our successful Pump it for Parkinson's event this spring, NIFS wants to bring the senior living industry together once again during Falls Prevention Week in September to empower seniors across the country. One of our most popular fall prevention programs is our Empowerment Workshop. This hallmark program is run on repeat a couple of times a year at several of our client communities because residents gain so much and continually ask for it.
During this program, we empower residents through education and the realization that the floor doesn't have to be a scary place to be. We provide them with step-by-step instructions on how to safely get up from the floor, demonstrate it for them and then allow them a safe place to try it for themselves. In addition, insight is shared that if you find yourself in the predicament of falling, there are ways you can do so more safely to minimize the risk of severe injuries. We also empower residents with education on tools in their senior living community like pendants, pullcords and assistive devices that can help them feel more comfortable in their surroundings.
Upon completion of this workshop, the resident commentary is amazing to take in and listen to how they are feeling.
"I didn't know I could do that."
"Taking a minute to breathe and not panic makes a big difference."
"Wow, having a plan and knowing the ways to move my body safely makes me more confident."
"I never would have thought to actually practice how to get up from the floor, but it feels great knowing I can do this!"
As the fear of falling is a risk factor for falls, this workshop will equip residents with improved awareness, knowledge, and skills to build their confidence while empowering them to take our Fall-Free Pledge with thousands of seniors across the US. Participating communities and their residents can be featured in a fall prevention video shared by NIFS on Friday, September 22!
Participation is FREE and easy. Register your community on our event page and we'll train up your fitness staff on how to host the program for your residents. Your community will receive all the great promotional content, flyers, brochures, etc., to plan the Workshop for your residents and you'll have a chance to win a free Step and Connect balance training tool and a free fall prevention consulting package from NIFS to help your community customize your own fall prevention program.
Communities and senior living operators are welcome to contact Emily Davenport for more information on how to bring this best-in-class fall prevention experience to their residents for free.