It is safe to generalize and say the majority of people put a lot of trust in their doctor and admire them simply for their level of education. After all, they did go through many years of extensive and exhausting studying and training in order to earn the title of "Doctor." They even have a decent health grade and framed certificates around the office, but does that mean we should put all of our faith in them and make them 100% responsible? Well, not exactly.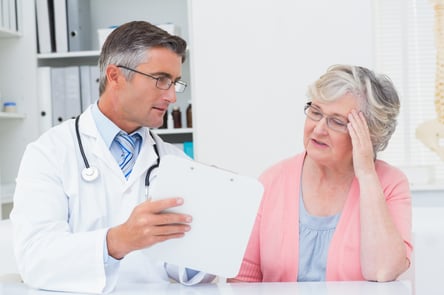 There are a lot of checks and balances in place when it comes to health care. You have nurses, nurse practitioners, pharmacists, physician's assistants, physicians, surgeons, and more, but what if all of these fail? Though it may be rare, it does happen. So who should ultimately be accountable? You.
Too often, patients sit in a doctor's office and are given loads of information, which might as well be told in a foreign language, all wrapped up in 5 minutes. The patient sits, smiles, and nods, thinking (or pretending) that they followed every detail that was spilled out to them. We assume the medications and dosages we are being prescribed are necessary and safe.
Kelly's Story

A friend of mine, who we will call Kelly, was not feeling well and had arrangements to fly later in the week. To avoid being uncomfortable during her travels, Kelly reached out to her doctor. Kelly's doctor was out of town, but the partnering doctor was available to see her. Without hesitation, the partnering doctor prescribed Kelly an antibiotic, and, without any questions, Kelly picked it up at her local pharmacy. A week later, Kelly felt extremely foggy-headed and enormously sluggish, and started developing rashes, painful headaches, very achy joints, and more.

Kelly put her week on replay, trying to figure out what she had done differently that could cause such a major downward spiral in her physical health. Then it hit her: the antibiotic. She quickly started searching for answers and within seconds, from a simple Google search, she found it. Kelly was prescribed a sulfa drug, which is the number-one drug that should be avoided if you have lupus. Because the doctor seemingly did not even glance at Kelly's files, the pharmacist did not pay attention to her log of current medications, and Kelly did not think twice about a doctor's advice, she had the worst lupus flareup she had ever experienced.
How to Advocate for Your Own Health Care

Why do we assume all instructions are best for us because of a health professional's level of education and authority? It is our body, yet we blindly and mindlessly do as we are told. Why is it difficult to be vulnerable and admit that we do not understand the information we are given during our visits? When did we lose our curiosity or stop asking "why?" You are at the office seeking medical advice, so seek it! Here's how:
Ask questions.

Have logs and questions written down before you walk into the office.

Make the doctor or nurse write down information for you.

Ask for the doctor to explain what the lab results mean, not just rattle off numbers that you can read yourself. Then ask for copies of the lab results.

Remind all health professionals involved of your medications and lifestyle changes.

Request print materials related to your diagnosis. If your doctor is not willing, it may be time for a new doctor.
Remember, you are part of the team that makes decisions toward improving your health and wellness. Be involved, be informed, and be okay with asking for help when you don't understand. Be your own advocate.

Your health is important, check out our quick read to see why exercise is important in aging well, download it below!