This blog was written by Kara Gootee. Meet our blogging fitness specialists at the NIFS website.
Many employees say they do not have time in their day for exercise, or they forgot their workout clothes. Don't let excuses stand in the way of your corporate wellness program. Implement a quick walk at work to encourage worksite wellness and get employees up and moving.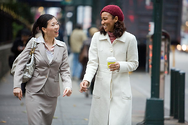 The Benefits of an Exercise Break
Recent studies show that more breaks and less sitting results in smaller waist sizes and a decreased risk of heart disease and diabetes. A quick 20-minute break is a great way to refresh the mind, catch some fresh air, and get the body moving.
How to Add Walking to Your Corporate Wellness Program
Starting a walking program is easy. Designate a time and location, and get moving. Many employees may enjoy getting out for an afternoon break for a quick walk around a parking lot, or a trip around the block. Encouragement and participation from management will help get the ball rolling.
If Your Wellness Program Already Includes Walking
Here are some ways to spruce up your walking program:
Specify a day: Get Movin' Monday, Walk Wednesday, etc.
Give out walking group t-shirts to create camaraderie.
Provide healthy snacks following a walk.
Track steps taken with pedometers.
Sign up for local area events and walk together.
The benefits of walking outweigh the excuses. Encourage worksite wellness not only for a healthier workforce, but for a happy work environment.