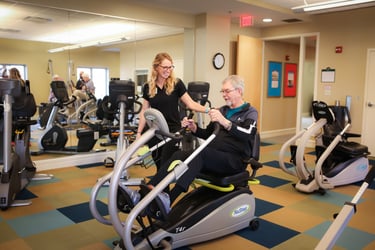 Our fitness management staff members have some of the best stories around on the impact their fitness programs are having on resident lives in the senior living communities we serve. They hear comments from residents or their family members, they see new faces in classes, and they track the data in programs and services that demonstrate solid engagement. Our staff takes great pride in these affirmations knowing that the work they are so passionately committed to is truly making a difference not just for residents but also for the culture of a community as a whole.
In 2020, NIFS is embarking on a new platform to more effectively bridge the gap from these stories garnered in community fitness centers directly to the marketing and sales teams. We have always partnered with clients on helping them in their marketing and sales messaging, but we are taking this to a new level in 2020 as more clients want to differentiate their communities during prospect tours and via social media in particular. Community fitness centers are becoming more commonplace in the industry. Communities know they need to have the physical space available. However, a truly comprehensive program can be a distinguishing element to showcase through the right storytelling about your resident successes.
How to Capture and Share Your Stories
Here are a few tips to help your community capture and share some of that marketing gold happening in your fitness center!
It starts with the data. Having a strong foundation in your fitness program, where you are tracking total members, visits to the fitness center and classes, engagement in various services each month, etc., can help you identify the wins and program successes you want to spread the word about during prospect tours and social media postings. If you don't have a solid foundation established to track this data with consistency, it's difficult to substantiate the impact your program has with any bearing. Click here for more insight on the value of strong data.
Capture the feedback. With a qualified fitness professional at the helm of your fitness program, you have someone who has a strong relationship with your residents, who is coaching them and guiding them in the fitness center, and who hears directly from your residents about the strides they are making in their fitness, balance, and overall well-being. Having a system in place to share resident success stories can be marketing gold to help your consumers identify how living in your community might positively impact their quality of life as well.
Make it visual. On your website and social media channels, avoid use of stock art where possible. If prospects are following you socially, let them genuinely experience your community by seeing your spaces alive with vibrant activity week after week. They've likely seen your fitness center, pool, or aerobic studio during a tour, but you can help them truly feel what your residents experience through your images and videos or let your fitness manager go live for an even more engaging experience. Being able to see their friends and acquaintances thriving in a space they once toured can build a much stronger connection than stock art alone.
Let NIFS Help
The era of social media is changing how consumers shop from afar. Don't miss out on creative opportunities to help your prospects experience your community week after week as they scroll through their Facebook feeds. If you have questions about how to effectively move forward with some of these components or how to have the right structure in place to do so, contact NIFS for more information on our fitness management or consulting services.