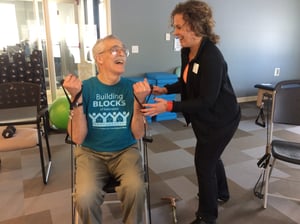 NIFS has been partnering with Friendship Village Kalamazoo since 2015, when they opened their beautiful new Wellness Center. We recently heard an uplifting story from FV resident Kim Cummings regarding the impact the health and fitness program has had on his mobility and outlook on life.
Mr. Cummings has been an avid participant since joining the program in 2015, faithfully attending fitness classes two to three times a week and exercising in the Strength & Cardio Studio. NIFS Fitness Manager Alecia Dennis commented, "I love how Kim is always pushing himself to be better and stronger than yesterday. I am thankful that I am able to watch him flourish in all of his fitness endeavors. He truly is an inspiration to me and all of the residents here at Friendship Village!
We know the value our services bring to the residents and communities we serve, but it never gets old (ever) hearing directly from residents like Kim about their journey. Here is Kim's inspiring story.
I came to Friendship Village regretting my ongoing dependence on a walker and lacking confidence in the Village's fitness program. After eight months of our actual experience here, my perceptions radically changed. Having become a regular user of the fitness machines, now attending stretch and strength group classes two or three times a week, and now regularly walking our dog on the paved pathways surrounding the Village and its nearby woods, I've actually been able to ditch my walker and, though slowly, feel myself gaining additional strength.
I've also come to recognize the fitness program's social function. The group classes, led by our zesty fitness manager, connect me with an ever-larger group of exercisers. None of us is terribly fit, but we all feel good about marching and stretching and pulling together. We just like coming together, grabbing our weights, finding a chair, and chatting with our neighbors. Likewise, when working out on the fitness machines, I find myself connecting with the individual exercising beside me. The machines are fun to work out on—they give one a sense of accomplishment and progress, but they also provide a great opportunity to introduce oneself to others.
A lover of the outdoors, I've also come to appreciate the Village's accessible and attractive walking paths. I've particularly enjoyed my recent walks in the Village Woods (where, even in the winter, the paths are kept clear). I love getting to know the many different plantings and benches dedicated to past residents and to see the ongoing work of the Woods volunteers. Last week I spied a flock of migrating robins passing through the Woods and feasting on the crabapples planted along the side. Walking in the Woods reconnects me with nature and with the rich collective heritage of this Village community.
Freed from my walker and gaining strength, I feel that the fitness program and other aspects of Village life have added to my independence, enabling me to get around more easily. At the same time, it helps me get socially connected with other residents and stay connected with nature. I couldn't ask for more.