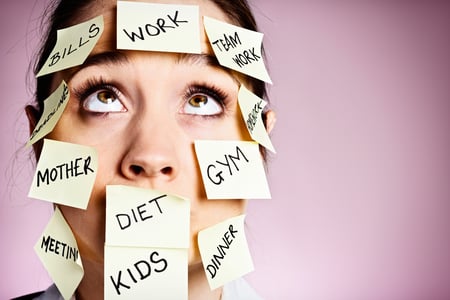 American is the land of opportunity and from the time we are children, most of our parents have encouraged us to take advantage of these opportunities. They encourage us to understand that we can be anything we dream of when we grow up, accomplish any goal we set our minds to, and with hard work can achieve what others think is impossible. While these are great confidence boosters for children, as we become adults many of us have a hard time distinguishing between being able to do anything and being able to do everything. It is great to set your goals high but you have to prioritize to be able to achieve them.
This is something I see day in and day out as a fitness professional with my clients. I also see it in the unrealistic expectations I set for myself. For example, if your goal is to run a marathon you can't expect to strength train three times a week, lose those pesky 10 pounds that have been hanging around, keep up with kids activities, maintain a full-time job, sleep eight hours a night, volunteer at your church, and have healthy meals prepared each dinnertime. Something has to give! This is where a dreaded word comes into the mix: "NO."
Read More [4 Ways to Find a Healthy Relationship with Exercise]
We have a passion for so many things and a desire to please others but we have to prioritize. You can run that marathon but you may have to give up volunteering at your church to complete some long runs on the weekends. You may have to eat leftovers for dinner a few times a week to keep up with your training schedule. It is ok to say no or push some things to the back burner for a while so you can achieve the "anything" you have set out to accomplish. If different things become a priority, you can pull them to the forefront again.
Living a healthy lifestyle can be overwhelming. There are 7 different dimensions of well-being that we are constantly trying to balance. Cut yourself some slack and remember you cannot do everything, especially not all at once. Pick one or two things and make them your top priority. See how these affect your life and decide if they are habits worth keeping. Once you find a good balance, try adding another and see how you do. You can achieve any health/fitness goal but you cannot achieve all of them at once. Write down your top health/fitness goal for the month and focus on that for 30 days. You will feel a sense of accomplishment and build a confident attitude that says that you can do ANYTHING, just not EVERYTHING.