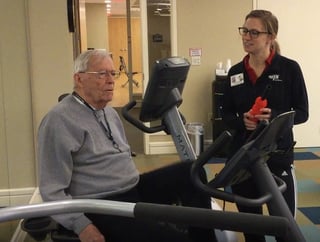 There are a lot of news releases lately outlining new construction or expansion projects in senior living. Many of those projects include outfitting a brand new or dramatically overhauled community fitness center.
Because the construction projects are typically significant and encompass more space than just a fitness center, it's easy to get lost in the details about treadmill features when you need to answer questions about flooring, HVAC demands, city permits, and more. And even within the four walls of the senior fitness center, there are several other things to be concerned about beyond simply selecting the equipment.
[Read More: 5 things to avoid when building a fitness center for senior living]
To help you streamline decision making about your community's new fitness center and increase the chances that the purchase decisions you make are the right ones, we've offered some key questions to ask before you buy fitness equipment to outfit your updated space. The list isn't comprehensive (you should hire a consultant for that), but it will provide a solid starting point to get to the bottom of determining what's best for your residents.
As you're working with the reps, make sure you're clear about the age and ability level of your intended user. The same is true if you want to send out residents to test equipment at a local gym (sales reps may offer this). Make sure you send residents who are a good representation of those you expect will use your updated fitness amenities.
And one last note of clarification before you dive into the questions. NIFS does not sell any exercise equipment, nor do we receive any benefit from equipment manufacturers. These questions are based purely on our years of experience helping clients design and equip their fitness centers for a range of audiences.
Strength Equipment
It comes in a lot of shapes and sizes.
Pneumatic: An air compressor regulates the amount of pressure against which the user works.
Selectorized: Plate adjusted, with the user pulling out and reinserting a pin for the desired weight.
Band technology: Weights are replaced with bands used as pulleys to generate resistance.
Body resistance: The user works against his or her own body weight (and gravity) to generate a workload.
When it comes to thinking through questions for your sales reps, consider these:
How is the resistance adjusted by the user?
What is the starting weight for each piece and can that be lowered in our order if our population needs that?
Are the seat heights, leg positions, seat backs, etc. adjustable per user? If so, how are they adjusted?
Is there any other equipment I need to purchase to make your equipment fully functional for us? (Some equipment requires a computer, other equipment requires a compressor, etc.).
What is the warranty on the equipment?
(When the equipment comes with a software component…) Do you provide training to our onsite staff to learn how to make the best use of your software? Do you offer technical support?
Cardiovascular Equipment
In general, your fitness facility should have a range of cardiovascular equipment, including treadmills, ellipticals, recumbent cross-trainers (think NuStep or a similar product), and bikes. In some cases, we've seen rowing machines included, too. (They provide a great workout; we're just not sure it's an ideal piece for most residents.)
Some basic questions are true for each type of cardiovascular equipment:
What's the warranty?
Who is the warranty-certified repair company in our area?
What are the power needs for this piece?
Can I see the detailed screen of the computer console? (You'll want to see how user-friendly it is for your audience.)
Does it connect with any wearable technology, or can we opt for an interactive console?
If we don't elect an interactive console now, can we change them out later?
Treadmills

What's the step height on your treadmills?
What's the starting speed?
Does the unit decline or only incline?
Ellipticals
Is the piece rear- or side-entry?
What is the clearance threshold or step height to access the piece?
Does it come with stationary arms?
Does the elliptical require external power? If not, (1) ask what the starting wattage requirement is, and (2) ask if there is an optional AC adapter. If no adapter is available, note that we've found anything requiring a starting wattage higher than about 15W is too difficult for many residents to power.
Bikes
You'll want to consider traditional upright bikes and recumbent bikes. Matrix offers a hybrid bike that presents an interesting option as well.
Do you have an upright bike with a pass-through design?
Does the bike require external power? If not, (1) ask what the starting wattage requirement is, and (2) ask if there is an optional AC adapter. If no adapter is available, note that we've found anything requiring a starting wattage higher than about 15W is too difficult for many residents to power.
General Questions
These are general questions to ask any vendor regardless of the type of equipment you're considering buying.
What's the primary market your company serves? (Ask for clarity in sales volume.)
Can I talk to a practitioner who has used your equipment with an 85+-year-old population?
This last round of questions has nothing to do with the function of the equipment for the residents. It's really focused on details for your overall fitness program and the role the equipment plays in your fitness center, which should be a hallmark space in the community.
Can I customize colors on frame and upholstery (for strength equipment) to match our brand?
Are you able/willing to customize your equipment with our logo?
You're making a significant investment by building a new fitness center or overhauling your current community fitness space. Make sure you get the right equipment to increase the chances for a vibrant and successful fitness program that will support this generation of residents and the next. These questions will help guide and inform your equipment decisions, but if you want to better understand how to design the fitness center with your resident's needs in mind, consider downloading our quick read below.