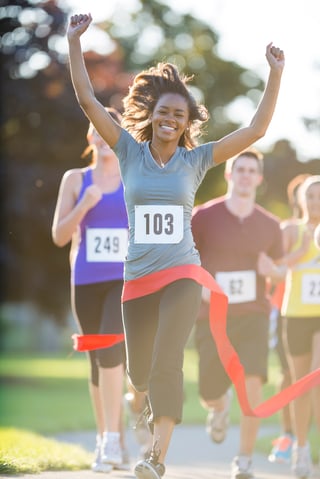 It's true, signing up for a 5K or a triathlon can be fairly intimidating for a first-timer. The fear of going too slow, finishing last or even not finishing at all can hold someone back from completing their first race. The fact is, very few competitors are attempting to come in first place. Most are just trying to finish! The benefits of racing are countless and most have absolutely nothing to do with how fast you go. Here are my top 5 reasons why you should complete a race:
[Read more: 5 Ways to Avoid Injuries While Running]
MOTIVATION: As a fitness professional, I've encountered several clients who admit that motivation is the number one reason why they cannot commit to a regular exercise routine. Having a date circled on your calendar marked as "race day" can be one of your biggest motivators. Put some skin in the game by signing up and paying for the race well in advance, and

register for a training program to hold you accountable in the weeks leading up to the race

. By doing both of these, the likelihood of you sticking with it are much greater.
CAMARADERIE: Spending 10-12 weeks with the same training group is bound to lead you to new running or walking buddies. Whether it's during a training program or at the start or finish line, you'll be surrounded by like-minded people with at least one common interest.
SUPPORT A GOOD CAUSE: Most races donate the registration proceeds to foundations ranging from curing chronic diseases, to disaster relief. You'll get to conquer your goals with friends while donating to a good cause.
FREE RACE SWAG: Races are getting extremely creative these days. Most races will reward you with a free shirt and medal, but other freebies like hats and water bottles are becoming even more common. Who doesn't like free stuff right? In additional to free swag, there are yummy treats and beverages at the finish line!
FEELING OF ACCOMPLISHMENT: Completing a race can be one of the most exhilarating feelings you'll experience; crossing that finish line for the first time is something you'll remember for a very long time. Even if it's your 100th time crossing the finish line, the rush never gets old.
I don't believe that anyone can ever grow inside their comfort zone. If you've never completed a race, now's your time to step outside your bubble and make a change. If you've completed several 5K's but a half marathon seems like a daunting task, commit to proving yourself wrong and take the challenge to go 13.1. If you've completed a half-marathon or full marathon, step outside that comfort zone and try your hand at triathlon. There's a world of creative races out there so find your niche, start your training, and reap the benefits.